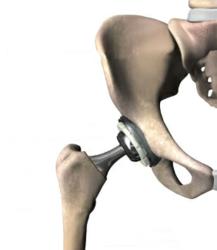 More than 80 patients affected by the recalled devices have filed a Stryker hip lawsuit in a New Jersey multi-district court.
New York, NY (PRWEB) March 22, 2013
The hip implant safety center at DrugRisks.com is announcing new information on the site for patients affected by the recall of Stryker Rejuvenate or ABG II hip systems. Lawyers for those alleging injury have asked that the rising number of lawsuits be moved to a central federal court.
At DrugRisks, our goal is to improve the safety of medical devices and prescription drugs by bringing to light the latest warnings, recalls, studies and litigation news. Patients with concerns can see if others are experiencing similar side effects and decide whether they need legal advice.
The resource center contains warnings from the British Medical Journal* and FDA** that toxic metal shavings from all-metal hips like the Stryker ABG II and Rejuvenate can cause serious conditions like tissue damage, bone loss and damage to other organs.
The DrugRisks hip center has also advised patients of the recent Stryker recall of the Rejuvenate and ABG II modular implants***. The company admitted that some patients have experienced effects like adverse tissue reaction and elevated metallic blood levels, even when no symptoms are present***.
So far, more than 80 patients affected by the recalled devices have filed a Stryker hip lawsuit in a New Jersey multi-district court****.
Now, the DrugRisks hip center has learned that patients asked the U.S. Judicial Panel on Multidistrict Litigation to consolidate the growing Stryker hip recall lawsuits to a special federal court in the U.S. District Court, District of Minnesota. (In Re: Stryker Rejuvenate and ABG II Hip Implant Products Liability Litigation, Case Pending No. 20 (JPML)).
Stryker has retained a claims management firm to attempt to settle patient claims on their own***. However, anyone affected by the Stryker Rejuvenate or ABG II hip recall is urged to contact the DrugRisks hip center or speak with a lawyer about their full legal rights to compensation before signing anything from Stryker or Broadspire, or deciding to take action.
Due to the specialized nature of federal medical device injury cases, DrugRisks only recommends lawyers and law firms who have already handled hip implant or Stryker recall lawsuits.
Visit http://www.DrugRisks.com today for more information on the Stryker hip recall, research, side effects and litigation news, or to speak with a lawyer.
*bmj.com/content/344/bmj.e1410
**fda.gov/MedicalDevices/ProductsandMedicalProcedures/ImplantsandProsthetics/MetalonMetalHipImplants/ucm241604.htm
***stryker.com/en-us/products/Orthopaedics/modularneckstems/index.htm
****northjersey.com/mahwah/Over_80_lawsuits_on_hip_implants_filed_against_Mahwah-based_Stryker_Orthopaedics_.html?page=all