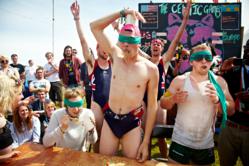 The tripling of tuition fees has seen a shift change in student spending habits. They are far more savvy, frugal and thoughtful in key purchase decisions. This means brands need to up their game in engaging students.
(PRWEB UK) 27 March 2013
The 2012 academic year is a seminal year for further education in the UK for two well publicised reasons:
1. A student starting their course in 2012 will graduate with a debt, on average, of over £50,000. This is double the amount for the same course a year ago. 
2. Nearly 20% of new graduates are unemployed and a further 38% are employed in lower skilled jobs  which means that nearly 60% of graduates are being under-utilised, and have spent thousands of pounds on a degree that they are not able to use. 
Seed Marketing have taken an in-depth look at the student market for 2012/13, going beyond just the finance to understand the needs, desires and concerns of modern students, their unique lifestyles and their interactions with brands to explore new routes to market and methods of delivering value in this difficult to reach, but strategically vital market. 
Their report, produced from analysis of a range of sector specific reports and detailed conversations with their 10,000 strong student ambassador network includes insights such as:

75% of students use their laptop as the main source of TV content that they want to watch. The house TV is now a social draw with people gathering to watch the latest X Factor or David Attenborough special!
Students spend 7 times more than the general population online. What does this mean for your revenue streams?
60% of students (and rising) have a smartphone. Are you optimised for this channel?
Facebook is still the most used social media site, but is its crown slipping? What's the next big thing? Where should your brand be?
Students are not fussed about owning their content. They dip into new things as their interests evolve and they're happy to pay for a service that allows them this flexibility, but the price has to be right.
To download the report click here.
Seed Marketing are firmly established as experts in student marketing and are entrenched across the diverse student world. MD Celia Norowzian was a founder of the UK's leading student festival; Beach Break Live, a former Dragons Den winner and has over 8 years student marketing experience. Their innovative approaches and unique tools have lead them to develop and deliver marketing strategies and campaigns for a diverse range of clients looking to access this difficult to reach but incredibly valuable market including Dell, Superdry, Ben and Jerry's, Miller Beer and MTV.
For more information and to speak to Seed Marketing about your student marketing head to http://www.seedmarketingagency.com.