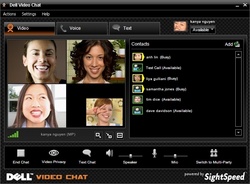 People seeking stunning design, brilliant colors, and innovative new technology find inspiration in Dell's new Studio brand
ROUND ROCK, Texas (PRWEB) June 26, 2008
"People seeking stunning design, brilliant colors, and innovative new technology find inspiration in Dell's new Studio brand," said Michael Tatelman, vice president of Dell consumer sales and marketing worldwide. "These products are built for today's digital nomad based on the millions of conversations we have every year on dell.com, Ideastorm and community forums. With Dell Studio we're answering the call for personalization, connectivity and simplicity."
The first Dell Studio products are two distinctively styled laptops, the Dell Studio 15 and Dell Studio 17. These laptops combine sleek designs, striking visual color elements and personalization options with features such as standard built-in webcam, capacitive touch media control buttons, slot load drives, and optional mercury-free LED displays and built-in mobile broadband. They are available today on http://www.dell.com/studio starting at $799 (Studio 15) and $999 (Studio 17) and will be available at Best Buy and Staples stores in the next few days.
Sleek and Unique
The new Studio products inherit design elements first introduced in Dell's award-winning XPS™ M1330 and M1530 laptops, including a sleek wedge-shaped profile and an iconic drop hinge design. Taking its cue from the Inspiron portfolio, Studio laptops also offer several personalization options that allow a customer to color customize a laptop unique to him or her. And as with Inspiron products, Dell will offer optional color-coordinated accessories and peripherals like backpacks and slip covers, mice, ear buds, etc. so customers can assemble a mobile high-definition package that's unique.
"One year ago today we refreshed and revitalized our consumer portfolio with emphasis on product style, design and personalization. Flamingo Pink and Midnight Blue laptops have since became regular sights on college campuses and in coffee shops" said Alex Gruzen, senior vice president, Dell consumer product group. "The new Studio products demonstrate that Dell is continuing to focus on design and value, delivering attractive, feature-packed mobile digital lifestyle products."
Starting with either a 15 or 17-inch high-definition display, customers may pick one of six optional color choices, including new Plum Purple and Tangerine Orange, in addition to Flamingo Pink, Midnight Blue, Ruby Red, Spring Green or standard Jet Black. For a more subtly personalized laptop, Dell has added an optional high gloss Graphite Grey choice that can be customized with contrasting Black, or more vivid Blue, Pink or Red edge trim around the display back.
While Dell Studio systems have rich basic features, they also offer customers a wide variety of options to ensure the system facilitates and enhances the user's digital passions whether that is being the curator of their own photo or music library or creating cool new web content themselves. The optional Blu-ray Disc™ drives help deliver cinematic video quality on high definition displays. Optional Built-in mobile broadband1 connectivity through wireless carriers like Verizon Wireless and Sprint means users can connect on their own terms, wherever there is cellular coverage. Users can simplify password management while preventing unauthorized access with the optional fingerprint reader.
Making it all easy
Dell is also focused on simplifying the consumer digital experience with unique user interfaces like the Dell Dock, a task-based application organizer that places the most frequently accessed programs front and center, and Dell Video Chat, a one-click easy to setup and use video and voice communication program. The Dell Dock automatically sorts installed software applications on the PC into user friendly categories, which can be accessed by a simple taskbar, leaving the desktop free of clutter. Customers don't have to locate and open a program by application name or icon on the desktop, but instead can locate it by task, like "email & chat," "security," "view photos," "play music," etc. The task bar is customizable: users can chose its anchor location, background and font color, and even the icons used to represent a category.
The Studio laptops will also include a new, easy-to-set up and use communications program, Dell Video Chat. Families and friends can stay in touch using video chat, recording and sending video emails, or even PC-to-PC phone calls around the world. The application supports four-way calling, making virtual family reunions a reality.
About Dell
Dell Inc. (NASDAQ:DELL) listens to customers and delivers innovative technology and services they trust and value. Uniquely enabled by its direct business model, Dell is a leading global systems and services company and No. 34 on the Fortune 500. For more information, visit http://www.dell.com, or to communicate directly with Dell via a variety of online channels, go to http://www.dell.com/conversations. To get Dell news direct, visit http://www.dell.com/RSS.
Additional information, images:
http://www.youtube.com/user/DellVlog
http://www.sightspeed.com/dellvideochat
http://www.flickr.com/photos/dell_digital_media
Dell is a trademark of Dell Inc.
Dell disclaims any proprietary interest in the marks and names of others.
Offers subject to change, not combinable with all other offers. Taxes, shipping, handling and other fees apply. U.S. Dell Home and Home Office new purchases only. Dell reserves right to cancel orders arising from pricing or other errors.
1 Subject to wireless provider's broadband subscription and coverage area; additional charges apply.
MULTIMEDIA GALLERY http://www.businesswire.com/cgi-bin/mmg.cgi?eid=5718529