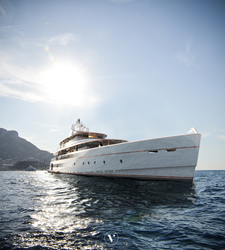 "If the yachting industry is to attract new, younger owners, then we have to improve the owner experience without having to build a larger, more expensive yacht."
FORT LAUDERDALE, Fla. (PRWEB) August 19, 2018
The cause for celebration is twofold: a pre-engineered 50-meter platform designed to support a variety of superstructures, and a paradigm-shifting layout fully dedicated to "human-centered" living.
The creative duo behind the edgy Dutch design studio Vripack, and the envelope-pushing YachtCreators division of The New Yachts Company, have essentially ripped up the standard 50-meter megayacht layout and started over from scratch.
"Today's owners are trending younger. They value intelligent ergonomics and versatility in everything they own," says Barin Cardenas, founder of The New Yachts Company.
"It was our strong objective to bring more experiences to our owners, presenting them with possibilities typically seen only on larger yachts. We created what we coined as a Resort Yacht, and the Vripack team pushed the boundaries even further!" "Look at 500GT market," continues Barin, "the layouts here are all about the same. A divided main deck, a couple of aft decks, main salon dining, a rear-facing skylounge, a sundeck, and a beach club that's mostly inaccessible. Basically a few areas for the family to spend their time aboard and not much privacy. Humans need variety."
"If our industry is to attract new, younger owners, then we have to improve the owner experience without having to build a larger, more expensive yacht."
"This we wanted to seriously disrupt," says Bart Bouwhuis, co-creative director of Vripack. "So look at the result - we improved the 'industry standard' by more than 300%. Maharani's main deck has 50m of clear deck space offering ten dedicated areas. From the layout it's obvious that each of these spaces have their own intimacy and function. This allows all family members to enjoy their own time on board while still being together all on one incredible deck stretching from stern to bow."
"Guest privacy was a major focus, so the upper deck is the second full deck dedicated solely to the Owner and family," continues Barin. "This allows everyone on board to feel at home at sea, each respecting and enjoying his or her own space."
Maharani is a total re-imagination of onboard space, placing the Owner(s) experience onboard at the centre of it all. The galley, engine room and wheelhouse were relocated to areas more strategic for the Owner(s) and the crew. New entertainment areas were created or enhanced, and connected directly to the Owner(s) and guests.
Vripack's interior design was carefully developed to embody the human-centered design philosophy. "Being Dutch, we love to play with light," says Bart. "Sure, the huge windows play a significant role, but do not underestimate the relevance of selecting just the right balance of light absorbing and reflection materials."
The result of this attention to detail is a warm home feeling, with views to enjoy from nearly every place on the yacht, inside or outside. This comfort was further ensured by focusing on installing bespoke loose furniture with natural tones to contribute to the warm penthouse atmosphere.
"In essence, Maharani offers a genuine 'Resort Yacht Experience'," says Barin. "Our goal is to provide owners with a superior onboard experience; more privacy, more luxury entertainment areas, and amenities only witnessed before on 500GT+ yachts."
ABOUT THE NEW YACHTS COMPANY & PRIME MEGAYACHT PLATFORM
Founded by Barin Cardenas, The New Yachts Company is an incubator helping launch innovative brands and designs into the yachting industry. Through the YachtCreators division, the creation of yachts and yacht brands has led to multiple award-winning yachts & nominations.
PRIME Megayacht Platform is a collaboration with Lucas Silva, an entrepreneur and yachting aficionado. Silva serves as the resident Yacht Owner's perspective, while the YachtCreators team led PRIME's development and market strategy. Lucas and Barin's extensive experience and shared passion is the driving force behind PRIME's innovation and constant evolution.
For more information, please contact Whitten Hall (press(at)newyachts(dot)com) or visit http://www.primemegayachts.com