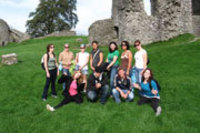 It was almost life changing for me
Denver, CO (PRWEB) March 7, 2009
It's difficult to quantify the value of an internship abroad on a graduate's job prospects, but for many university students, these real-world learning experiences in international settings provide life turning points, confidence boosters and resume builders.
Just ask Jen Williams and Joe Hamlin, alumni of internships abroad in Australia through AustraLearn / AsiaLearn / EuroLearn, a Westminster, Colo.-based provider of educational study abroad programs in Australia, New Zealand, the South Pacific, Europe and Asia.
Williams, a 23-year-old James Madison University graduate from Lancaster, Pa, credits her 2006 marketing internship at the Hunter Wetlands Centre Australia with giving her confidence to pursue a career in environmental or non-profit work.
"It was almost life changing for me," says Williams, who spent 10 weeks creating a marketing plan for a canoe trail through the ecologically diverse wetlands area, "and made me realize that I could not have a typical office job."
Joe Hamlin, now a 26-year-old corporate partnership executive with the Lake Erie Monsters/Cleveland Cavaliers, says his communications internship with Basketball Australia in Sydney allowed him to experience many facets of the sports industry while figuring out how to adapt to a different environment.
"I feel the challenge of learning a skill when you're already operating out of your comfort zone forces you to grow much faster," says Hamlin. "It also was an incredibly positive talking point in interviews."
Growing Interest in Internships Abroad
The number of U.S. students participating in for-credit internships or working abroad continues to grow each year, especially as students seek less costly education abroad options that are less than a semester long and don't interfere with home university schedules and commitments.
"I think the real value students are seeing is that they can kill two birds with one stone," says Barbara West, manager of AustraLearn's internship programs for Australian studies abroad. " Semester abroad programs provide cultural experiences along with valuable work experience they can put on their resumes."
At AustraLearn, which offers for-credit and custom-designed internship placements in New Zealand and Australia, internship enrollments have doubled this year, West says.
"I think especially with the way the economy is right now," she says, "being able to get international work experience makes it really appealing."
The idea appealed to Calah Kaslow, a 21-year-old senior agricultural communications major at the University of Arkansas, leaving this month for an AustraLearn internship at Stonyridge Vineyards, a world-renowned Cabernet-blend winegrower located on Waiheke Island, New Zealand.
During the 10-week internship, Kaslow will earn nine upper-level credits toward her degree. Since it will be harvest time at the winery, she will experience all aspects of the process, from fieldwork and picking grapes to testing and tank plunging. She'll work closely with the vineyard manager and winemaker to learn about harvesting fruit, the winemaking process, conducting wine tastings, vineyard tours and facilitating general sales.
When she returns to the United States in April, she'll have an advantage when searching for jobs.
Wide Array of Options
Internships abroad generally are not paid, but do provide valuable hands-on learning experiences aligned toward a student's career interests. West notes, "We require that internship sites give students specific projects or assignments directly related to their academic field of study."
Students who seek internships through AustraLearn can take advantage of two different programs.
The Professional Development for Academic Credit (PDAC) internship program, providing 10-week placements with six credits from Chapman University in Orange, Calif. is the most popular.
AustraLearn also provides Custom Designed Internships (CDI), which are independent placements.
To connect students to these jobs, AustraLearn works mostly with small businesses and nonprofits to find internship opportunities, West says.
Students have worked for CanTeen in Sydney, Australia, putting together fundraising events to provide services to teens with cancer, for Toyota New Zealand in engineering capacities, and for the New Zealand Whale and Dolphin Trust to assist with research.
From Australia to Alaska and Beyond
As Williams canoed the trail of Ironbark Creek at the Hunter Wetlands Centre Australia, she knew the nature of the work fit her personality and interests.
"I did sit in front of the computer," she says of her marketing internship, "but half of my job was getting out of the office and interacting with tourists and the children's programs."
After graduation, her internship proved important when she applied at the last minute for a job in ecotourism in Alaska and was told by the hiring manager the position had just been filled.
"I said, 'Look, I did this internship in Australia," she says, "and I can go through every one of the qualifications you're looking for and speak to them."
She was told to fill out an application and learned later that evening the job was hers if she wanted it, but she had to decide right away.
"Within a day," she says, "my whole life changed."
Three weeks after her graduation, she was on a plane to the remote village of Bethel, Alaska, to help develop sustainable environmental tourism that wouldn't negatively impact the land and water so critical for residents to continue their subsistence fishing and hunting.
She stated six months, working with a supervisor to secure a grant, visiting villages to learn the culture, and spending several days to track animal species that might attract bird enthusiasts or nature photographers to the area.
"I was the only AmeriCorps VISTA serving in Bethel," she says. "I did not meet anyone else who was fresh out of college."
After finishing her work in Bethel, she moved to Anchorage for an additional nine months working on a different AmeriCorps project, before moving to Richmond, Va., for yet another AmeriCorps position as a site coordinator National Student Partnerships helping low-income residents in the community.
She now is applying for graduate school in social work.
"I've always been interested in going into social work and joining that with environment and conservation,"
Going into this new phase, she knows she can adapt to a new environment, something she proved as she took her first flight out of the United States to Australia for her wetlands internship.
"Doing the internship reaffirmed I'd made the right decision," she says of her adventurous career path, "and gave me the confidence to go forward."
# # #