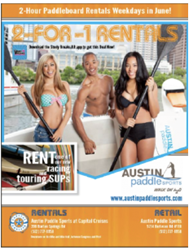 More than 20 million college students nationwide exert about $417 billion in spending power. In student-heavy cities, an increase in market share of the "college pie" could quite literally make or break a small business.
Austin, TX (PRWEB) June 13, 2013
A recent article from Marketingforecast.com reported that more than 20 million college students nationwide exert about $417 billion in spending power. In student-heavy cities like Austin and San Marcos, an increase in market share of the "college pie" could quite literally make or break a small business. Here Study Breaks College Media—a leading college media entertainment company dedicated to helping small businesses develop big market strategies—teams up with Ben Williams of Austin Paddle Sports and Richard Lawrence of Texas State Tubes—to present a free webinar with the key local players breaking down their recent success and shedding some light on what it takes to connect with a perpetually adaptive group of stakeholders.
Dissecting Sales Volume
One thing that's absolutely crucial to consider is total sales volume. As somewhat niche businesses focused on outdoor activities such as stand up paddleboarding and floating, there is a definite increase in their demand on the weekends. And while both businesses offer opportunities for multiple revenue streams, both rely on renting services to support their daily operations (which is great for the college market, as most students don't like to keep up with a large number of possessions). Where the two businesses differ is in their fundamental business model.
Texas State Tubes runs strictly as an operationally excellent option to floating. Richard mentions the importance of great service, low pricing, and their goal to provide the best floating experience San Marcos has to offer. Austin Paddle Sports, however, easily suffices as a customer-intimate model. They are truly operating on the forefront of a growing sport. Austin Paddle Sports sells high-end paddleboards (which run about $1000) and there are definitely logistic difficulties that ensue when one tries to ship them across the state. Austin Paddle Sports' main strategic advantage is how well they walk the fine line between being a product pusher and providing a service. For example, even the sale of one paddleboard makes the rental option worthwhile, but also, the group tour package is one of the fastest growing aspects of their business.
Connecting with the College Market
Tips on creating and growing a presence on campus:

Hire college kids
Use student models in ad creation
Promote the use of coupons
Innovate, innovate, innovate
Social Media
Of course, any growing business catering to the college market needs a solid social media foundation, and both experts recommend implementing social action plans to connect with their customers. There's a definite importance in staying adaptive when focusing on an ageless market.
-Austin Paddle Sports
When it comes to social media, Austin Paddle Sports is about as cutting-edge as it gets with a model that includes designing custom tab features to both highlight the business and support a coupon incentive. There's also an importance placed on constantly directing new and former customers to "like" their page and ultimately receive a 2-for-1 deal through the site.
-Texas State Tubes
A great feature Texas State Tubes highlights through their social media use is the photo-tagging options Facebook offers. TXST Tubes hires a photographer every weekend to specifically take pictures of patrons to post on their Facebook page for social sharing benefits. This strategy proves especially effective for the college atmosphere, as students are always looking to support the sharing of quality content, and as far as most students are concerned, it doesn't get much more quality than action photos of themselves partying with friends. Feeding one's page with a consistent stream of photos supplies virtually unlimited amounts of content, encourages users to keep visiting to check out the latest material, and works to keep the page fresh since one can always change the cover photo and benefit from an updated wall.
Click here to watch the webinar now!
Study Breaks College Media provides a one-stop solution for small businesses, providing them with big marketing strategies and delivering college students.
Study Breaks magazine is an award-winning line of monthly entertainment magazines for college students with a mission can best be explained through its slogan: We are college life. Published by Shweiki Media Printing Company, it is distributed in five Texas cities (Austin, Houston, San Antonio, San Marcos and Lubbock). (Studybreaks.com).