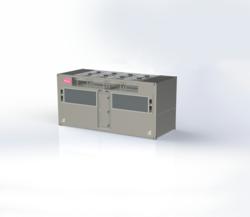 Given the rapid growth of modular data centers over the past two years, the STULZ CyberCon's modular design makes it ideally suited to the precision cooling needs of containerized data centers. — David Joy, Vice President of Sales and Marketing for STULZ
Frederick, Md. (PRWEB) February 20, 2013
STULZ Air Technology Systems, Inc. (STULZ), the U.S. design and manufacturing arm of the global STULZ Group, introduces the STULZ CyberCon modular, outdoor cooling system, a highly energy-efficient, self-contained, external cooling solution designed for rapid deployment with containerized computer rooms (PODs).
The modular design of the new STULZ CyberCon permits the ability to scale capacity and quickly align with IT demand and rapidly changing environmental conditions. Since STULZ CyberCon is constructed in advance of installation, it reduces upfront capital costs associated with the construction of a brick-and-mortar data center. To permit ease of shipping, doors, fans, and louvers have been designed so that they do not exceed the external dimensions of the STULZ CyberCon system.
"Given the rapid growth of modular data centers over the past two years, the STULZ CyberCon's modular design makes it ideally suited to the precision cooling needs of containerized data centers," remarked David Joy, Vice President of Sales and Marketing for STULZ. "We at STULZ are leading the way in precision cooling technologies for modular containers and we look forward to working with key IT manufacturers, integrators, and end users across the globe as we bring STULZ CyberCon to an increasingly wider base of customers."
"STULZ CyberCon is a true all-in-one cooling solution," said Joerg Desler, Vice President of Production and Engineering for STULZ. "With STULZ CyberCon, STULZ is providing a precision cooling solution that can be tailored to meet all IT manufacturer and data center needs worldwide."
Cooling Versatility with STULZ CyberCon
The STULZ CyberCon system's unique feature is its ability to condition supply air via an air-side economizer, direct expansion (DX), and/or optional direct adiabiatic cooling. Utilizing the STULZ E2 controller technology, the CyberCon system determines the most efficient means of cooling depending upon measured return air and ambient air conditions.
Going from Planning Ahead to Planning As Needed
The unique modular design of STULZ CyberCon features a one-side air intake and service access area, permitting end-to-end and back-to-back installation on site. In addition, STULZ CyberCon has been designed to meet or exceed all new ASHRAE (American Society of Heating, Refrigerating and Air-Conditioning Engineers) standards and is designed and manufactured in the United States at STULZ North American operations in Frederick, Md.
A member of the STULZ family of Mission Energy Products, STULZ CyberCon is available in a standard 20-foot container which includes two independent precision cooling units.
STULZ CyberCon responds to the needs of containerized data center owners with a reliable, energy-efficient solution. For additional information about the STULZ CyberCon precision cooling solution, please contact your local STULZ sales representative or visit http://www.stulz-ats.com/products/precision-cooling/modular-container/
About STULZ Air Technology Systems, Inc.
STULZ Air Technology Systems, Inc. (STULZ) is an ISO 9001 registered manufacturer of environmental control equipment including a full line of energy efficient precision air conditioners, ultrasonic humidifiers, and desiccant dehumidifiers. The company is responsible for product development, manufacturing, and distribution for the North American arm of the international STULZ Group. For more information about STULZ and its products, call 301-620-2033. E-mail your request to info(at)stulz-ats(dot)com or visit http://www.STULZ.com.