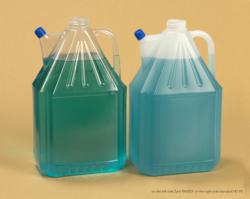 Through the cooperation with Styrolution and our use of Zylar for the canisters, Dienes Packaging has gained a competitive edge in terms of product appearance and performance," Klaus Dienes, CEO, Dienes Packaging
Frankfurt, Germany (PRWEB UK) 22 April 2013
Styrolution today announced it has entered into an exclusive supplier agreement with Dienes to supply the packaging specialist with its transparent specialty grade, Zylar® BX6503 (methyl methacrylate-butadiene-styrene copolymers). Ideally suited to extrusion blow molding, Dienes is using the grade in the production of highly transparent canisters of over one liter capacity. The application is unique due to the high level of clarity Zylar offers in comparison with other materials, such as polyethylene (PE). The first canisters will be sold starting in April 2013 by Ernst Vertriebsgesellschaft mbH, a specialist in industrial liquid containers. The joint project between Dienes Packaging and Styrolution is being supported by tools from POLY-TOOLS bennewart GmbH.
Key points:

Zylar BX6503 is characterized by a combination of excellent clarity and toughness. The material also cools more quickly during the canister production process, thus enabling Dienes to achieve higher production output than with conventional high-density PE.
Due to its specific gravity advantage, flow properties and processing temperatures, Zylar offers overall cost and material savings over competitive transparent materials, such as polycarbonate or polyester.
With Zylar, the process of producing an integrated handle is made possible in one step with less shrinkage than with other products, such as polyethylene terephthalate glycol-modified (PET-G). Further, customers who normally use PE can utilize the same production tools used in extrusion blow molding of PE, thus offering them processing and cost advantages.
Zylar also provides customers greater flexibility in placing the neck and opening of a canister not only in the middle but also on either the left or right side of the container.
An additional advantage of Zylar-based canisters is that shrinkage for inline labeling is significantly reduced in comparison with semi-crystalline material, thus effectively eliminating the presence of wrinkles or bubbles in the label.
Supporting quotes:
Sebastian Knapp, product manager, Specialties, Styrolution: "The Styrolution Specialties team prides itself in working side by side with customers to help them succeed by developing the right styrenic solution for any challenge at hand. We are pleased that Dienes Packaging has selected Styrolution as their partner for this project and that with Zylar, they have achieved what we view as a packaging innovation!"
Klaus Dienes, CEO and owner, Dienes Packaging: "We searched long and hard for the right material that would enable us to use our existing PE extrusion blow molding technology to produce high-quality, transparent canisters that would stand out from the opaque, PE-HD-based products on the market. Initial customer feedback has been very encouraging. Through the cooperation with Styrolution and our use of Zylar for the canisters, Dienes Packaging has gained a competitive edge in terms of product appearance and performance."
For more information Zylar or Styrolution's other products, please send an email to infopoint.emea(at)styrolution(dot)com.
ABOUT STYROLUTION
Styrolution is the leading, global styrenics supplier with a focus on styrene monomer, polystyrene, ABS Standard and styrenic specialties. With world-class production facilities and more than 80 years of experience, Styrolution helps its customers succeed by offering the best possible solution, designed to give them a competitive edge in their markets. The company provides styrenic applications for many everyday products across a broad range of industries, including automotive, electrical and electronics, household appliances, building and construction, healthcare and diagnostics, toys/sports/leisure, and packaging. In 2012, sales were at 6 billion euros, resulting in an EBITDA before special items of 335 million euros. Styrolution employs approximately 3,400 people and operates 17 production sites in ten countries.
For further information please visit http://www.styrolution.com
ABOUT DIENES PACKAGING
Dienes Packaging is a well-known specialist in packaging of plastics, with application fields in the chemical-technical, oil, pharmaceutical and food industry. Based in Kaiserslautern, Germany, the company employs around 60 employees who are engaged manufacturing through extrusion blow molding.
For further information please visit http://www.dienespackaging.com