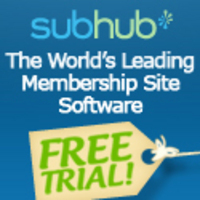 SubHub, armed with incredible new web 2.0 and forum capabilities combined with amazingly simple member management will become the gold standard of plug and play membership services
Hilliard, OH (Vocus) July 10, 2010
One thing that many an online business owner would love to have is residual income or recurring income. And one of the fastest growing business models for online commerce is the concept of membership-based websites, as an increasing number of entrepreneurs realize the income potential of building sites for niche markets consisting of people who are interested enough in a particular topic to pay a recurring monthly fee* for access to resources related to their area of interest.
The only problem is that a subscription based site can be difficult to set up and maintain, especially for those who have never operated a web-based business before, let alone a membership site. While there is software available which can help ease the process of building and administering one of these sites, there is still a great deal of work that needs to be performed by the webmaster. However, this is not the case any longer. Moving Ahead with Esupport Club has teamed up with SubHub Membership Software at: http://www.esupport-club.com to introduce a new package of software and services based on the powerful SubHub platform that makes running a membership site a truly 'set it' and 'forget it' endeavor, as many online businesses are already discovering.
"SubHub, armed with incredible new web 2.0 and forum capabilities combined with amazingly simple member management will become the gold standard of plug and play membership services," says John Gallagher, owner of Learning Herbs.
The new SubHub Services Packages includes not only setup and maintenance of a subscription based website, but:

a comprehensive portfolio of promotional services including link building
mini-site squeeze pages complete with audio and video content
and PPC advertising setup to further monetize membership sites.
The package also includes article marketing, YouTube video submission and other online marketing strategies, including customization to tweak as you'd like, to drive traffic to your SubHub membership site.
SubHub Membership Site Management & Freebies
SubHub provides website owners with a number of different avenues for monetization from the membership fees themselves to pay-per-view video, e-commerce solutions and of course, offering an online platform for promoting offline ventures. The platform also offers all-in-one, user friendly suite of publishing and administration tools along with technical support. And SubHub sites are SEO friendly from the ground up, another feature which has been attracting a lot of interest from entrepreneurs.
The eSupport Club's site offering SubHub services also offers website guests some free help just for visiting. Check out lots of free downloads available at the site, a library of tools and other resources for online business at no charge, by clicking the "Free Stuff" link in their navigational menu.
For more information about Moving Ahead with eSupport Club and their SubHub services, contact the company at 3288 Darby Glen Blvd, Hilliard, Ohio 43026. Call toll-free: (877) 833-0926 or visit them at: http://www.esupport-club.com . Listen to their free podcasts and view helpful videos on their blog at: http://www.movingaheadblog.com 24/7.
*en.wikipedia.org/wiki/Business_operations#Generating_recurring_income
###