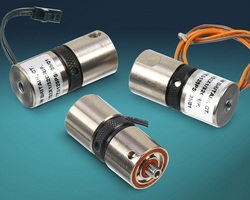 Plainville, CT (Vocus) July 22, 2010
Gems Sensors & Controls, a market leader in fluid sensing and control solutions, introduces the energy-efficient E Series family of pneumatic solenoid valves. E Series solenoid valves are specifically engineered for air and dry gas applications, and feature a low power consumption of just 0.65 Watts. A nickel-plated body and coil housing construction produces a highly durable, corrosion resistant valve. Featuring a fast response time, with high-pressure and high-flow capabilities, E Series solenoid valves are ideal for application in medical and respiratory healthcare devices, printing machinery and sorting equipment, automated packaging equipment, or air monitoring systems.
E Series solenoid valves feature a compact cylindrical body, with diameters less than ¾-inch (19 mm), and lengths under 2 inches (50.8 mm). Seal and o-ring options include Viton®, nitrile and EPR and silicone.
They are available in multiple 2- or 3-way configurations including Normally Open, Normally Closed, and Multi-purpose and Directional Control 3-way models. E Series valves offer orifice sizes ranging from .032 to .078 inch (.81 to 1.98 mm), and port configurations that include #10-32 straight thread, M5 x 0.8 threads, manifold mount and bottom under-seat port. Gems provides an informative Valve Selection Guide online here.
Founded in 1955, Gems is a preferred supplier to thousands of OEM companies across a broad range of industries through out the world due to its extensive application knowledge, innovative sensor and miniature solenoid valve designs, and customer centric approach to problem solving. Gems Sensors & Controls is a leading global manufacturer of: liquid level, flow, and pressure sensors; solid-state relays and barriers; liquid and pneumatic miniature solenoid valves; and pre-assembled fluidic systems with facilities in North America, Europe, and Asia. Gems Sensors & Controls is ISO 9001/13485, UL, and CE certified. For more product information, contact Gems Sensors & Controls, One Cowles Road, Plainville, Connecticut 06062. Phone: (800) 378-1600. http://www.GemsSensors.com .
###