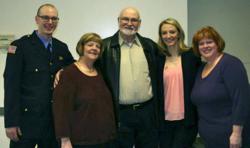 The AED was so easy to use and it worked flawlessly.
Pittsburgh, PA (PRWEB) March 04, 2013
The Sudden Cardiac Arrest Foundation last week recognized the rescuers who saved the life of Roland "Mike" Dulaney, 62. Foundation president, Mary Newman, and volunteer, Matthew Strauss, presented awards to Dulaney's neighbor Andrea Huzinec, firefighter/EMT Nick Gerstel, and emergency responders from the Allegheny County 911 Center, Rosedale Volunteer Fire Department, Plum EMS, and the Forbes Regional Paramedic Unit. About 150 people attended the ceremony, which took place at the Rosedale Volunteer Fire Department in Penn Hills. It was followed by a free CPR class for the public that included training in the use of automated external defibrillators (AEDs).
Dulaney's brush with sudden death occurred on Christmas night. As Gerstel, 29, recalls, he had just finished dinner with his family, when a call came in for a 62-year-old-man who had suddenly collapsed in cardiac arrest at his home nearby. He alerted the Rosedale VFD, asking them to rush a defibrillator to the scene. Then he started running to Dulaney's home, about two blocks away.
When he arrived, he found Roland "Mike" Dulaney in the kitchen—unconscious, not breathing normally, and pulseless. Fortunately, Huzinec was already there and had initiated CPR. Huzinec, a nurse, had celebrated Christmas with the Dulaneys earlier that day.
Gerstel quickly stepped in to assist with CPR. Within minutes, other rescuers from the Rosedale VFD arrived. Gerstel and the crew quickly attached the defibrillator pads to the man's chest.
"I heard the machine power on and analyze the man's heart rhythm. A few seconds later, the AED advised that a shock was necessary. I couldn't believe what I heard," Gerstel said. He looked around to make sure no one was touching the patient. Then he pressed the AED's shock button. After just one shock, the patient's pulse returned and he started breathing on his own.
When Plum EMS and the Forbes Paramedic Response Unit arrived at the scene, they provided advanced life support and transported Dulaney to a nearby hospital. He was admitted, fitted with an internal defibrillator, and has since made a full recovery.
"Without the AED and quick response time from the crew at Rosedale VFD, this may not have been a Christmas miracle after all," said Gerstel. "The AED was so easy to use and it worked flawlessly."
About 1,000 people suffer sudden cardiac arrest every day in the U.S., according to the foundation, and about 80 percent of cases occur in the home. "The average survival rate is about 10 percent," said Newman. "But when victims are treated quickly with CPR and AEDs, survival rates approach 40 percent."
"It was a very humbling experience," said Gerstel. "We've been sent to many other cardiac arrests and never had one turn out as positively as this case. I still can't believe I heard the device say 'shock advised'. I'm sure I will be friends with the Dulaney family for a long, long time."
Dulaney's wife, Sandy, and daughter, Michele Johnston could not be more grateful. "There were definitely angels around our house on Christmas night," said Johnston.
For a complete list of rescuers, click here.
About the Sudden Cardiac Arrest Foundation
The Sudden Cardiac Arrest Foundation is a national community benefit 501(c)(3) organization dedicated to raising awareness about sudden cardiac arrest and saving lives. The Foundation maintains a national database of survivors and experts available to speak with the media.
About the Sudden Cardiac Arrest Network
The Sudden Cardiac Arrest Network, a program of the Sudden Cardiac Arrest Foundation, is an online community that provides peer support and opportunities for survivors and family members to participate in awareness, advocacy, and research initiatives. For information, contact info(at)sca-aware(dot)org.