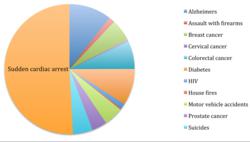 We're excited to offer an online community for sudden cardiac arrest survivors, those who have lost someone to SCA, and other advocates.
Pittsburgh, PA (PRWEB) August 30, 2012
A new online community for people affected by sudden cardiac arrest—the Sudden Cardiac Arrest Network™ —has been launched by the Sudden Cardiac Arrest Foundation. The Network is targeted to survivors, people who lost a loved one to the deadly condition, and other community health advocates.
The Network provides a way for community members to find others with similar experiences and interests, provide mutual support, and work in collaboration toward common goals. Members can create personal profiles, search for their peers, and "friend" one another. They can also post blogs and forum comments that will be linked to their profiles.
"Sudden cardiac arrest affects more than 1,000 people every day in the U.S. We are excited to offer a virtual meeting place for survivors, family members and friends of those who did not survive, and others who are searching for information, support, and ways to 'pay it forward,'" said Mary Newman, MS, Sudden Cardiac Arrest Foundation president. "We invite everyone who is interested in this important lifesaving cause to join the Network and help build the world's largest and most active online sudden cardiac arrest community—an army of foot soldiers fighting to conquer sudden death."
Why wait? Discover your friends and colleagues and start the conversation today.
For more information, click here.
About Sudden Cardiac Arrest
Sudden cardiac arrest, a sudden and unexpected pulseless condition, strikes 382,500 people outside hospitals every day in the U.S.—and 92% of victims die. That's more than the number who die from Alzheimers, assault with firearms, breast cancer, colorectal cancer, diabetes, HIV, house fires, motor vehicle accidents, prostate cancer, and suicides combined. Those who survive invariably received immediate CPR and treatment with a defibrillator. This is why it is so important for the public to be trained in CPR and the use of automated external defibrillators, or AEDs.
About the Sudden Cardiac Arrest Foundation
The Sudden Cardiac Arrest Foundation is a national community benefit 501(c)(3) organization whose mission is to raise awareness and save lives threatened by sudden cardiac arrest. The Foundation offers a comprehensive award-winning website, award-winning publications, including You Can Save a Life at School, and maintains a national database of survivors and experts available to speak with the media.