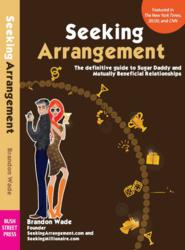 Here's the ugly truth
Las Vegas, NV (PRWEB) August 03, 2009
SeekingArrangement.com, the controversial dating site recently dubbed a 'virtual marketplace' by the New York Times, has released Seeking Arrangement: The Definitive Guide to Sugar Daddy and Mutually Beneficial Relationships. Author Brandon Wade, the founder and CEO of this fast growing site, says the new book will serve as a guide to anyone curious about or already practicing the sugar lifestyle and the art of negotiating mutually beneficial relationships. Website officials hope the book will clarify the difference between sugar and prostitution - once and for all.
Seeking Arrangement is also for those who are dissatisfied or disappointed in traditional relationships. "Here's the ugly truth," says Wade. "Many people in traditional relationships were sucked in by the irrationality of love. Sooner or later, when the hard reality sets in, they realize how miserable they are because most of their expectations have not been met." Having been divorced once, Wade shares his wisdom through the simple observation that successful relationships are simply negotiated arrangements, engaged by both parties who are brutally honest about who they are and what they want out of each other up front.
The cover of Wade's 241 page creed shows a dapper middle-aged man standing back-to-back against a Louis Vuitton clad, 20-something sugar baby. It's a portrait that Wade says is symbolic of the sugar daddy/sugar baby dating dynamic. "I saw a need for this service because I knew people who quietly lived the sugar lifestyle. I suspected there were a lot more out there who fantasized or thought about forming such attachments, but had no idea how to begin or where to find partners."
Seeking Arrangement's chapters range from 'The Money Component' to 'When the Sugar Sours'. In The 'Sugar Daddy Family Tree', we're introduced to the Married Sugar Daddy, who stays with his wife only for the kids, the Student Baby, who needs help with tuition, Mentor Daddies, Shopping Babies, Arm Candy Babies, and many other types of sugars. Yet, the author notes that the categories he identifies are not to be taken as rigid or immutable, but are meant to explain and expand upon the characteristics of sugar daddies and sugar babies.
In holding true to its claim of being the 1st definitive guide of its kind, Seeking Arrangement packs in 4 appendixes, including 'Prostitution versus Arrangements', a pointed rebuke of harlotry allegations, and 'Diary of a Sugar Baby', which chronicles the real experiences of a member who became a sugar baby after 8 years of post-divorce dating trauma. Her journey and that of others cited throughout the book adds to the overall validity of the guide, which ends with an honest look at how sugar arrangements are sweet for many, but are not for everyone.
Brandon Wade is founder and CEO of InfoStream Group. He is a serial entrepreneur who graduated from MIT with a BS and MBA. He currently lives in Las Vegas with his wife and their Chihuahua.
To purchase the book, visit the Sugar Daddy Book website.
The book can also be purchased online at mazon.com.
Brandon Wade operates a family of online dating websites. SeekingArrangement.com is the leading Free Sugar Daddy Dating Website dating and discreet dating website for sugar daddies, sugar mommies and sugar babies, catering to rich, famous and beautiful people. SeekingMillionaire.com provides a serious online Free Millionaire Dating Website dating venue where millionaire, wealthy and attractive singles can find love, marriage or serious relationships.
###