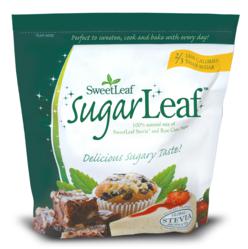 Gilbert, AZ (PRWEB) August 03, 2011
A sweet new product from Wisdom Natural Brands® is hitting store shelves. SugarLeaf™ is an all-new, 100% natural low-calorie sweetener great for baking and cooking, aimed at meeting the demands of increasingly health-conscious consumers who want to cut sugar in their recipes without sacrificing taste or texture. Made by blending SweetLeaf Stevia® and raw cane sugar, SugarLeaf offers a delightfully sweet taste, plus the browning and bulking qualities of sugar, but with two-thirds fewer calories and carbohydrates than sugar. SugarLeaf will be available at Whole Foods Markets in early August. By late September, SugarLeaf will also be available in select natural food stores and conventional grocery stores across the country or online at http://www.buywisdom.com.
SugarLeaf lets anyone – from at-home bakers to professional chefs – whip up naturally sweet creations with the traditional taste and browning characteristics of sugar while simultaneously cutting calories and carbohydrates. While all-natural SugarLeaf contains two-thirds fewer calories and carbs than sugar, it is three times as sweet as sugar, meaning less is used per recipe.
The new sweetener is made by bonding SweetLeaf Stevia, which uses a water-only extraction process, to the sugar molecules. No other ingredients are added. The result is an all-natural sweetener, with no chemicals and no genetically modified organisms – nothing artificial. It's free of erythritol, other sugar alcohols and maltodextrin.
SugarLeaf, from the makers of SweetLeaf Stevia® Sweetener, the only all-natural stevia sweetener with zero calories, carbs, chemicals or glycemic index, will be available in one-pound bags.
To learn more about SugarLeaf or SweetLeaf Stevia Sweetener, please visit http://www.sweetleaf.com.
About SweetLeaf Stevia Sweetener
It all started with one man who had a dream – James May, Founder and CEO of Wisdom Natural Brands. Stevia is a naturally sweet herb native to Paraguay that has been consumed for centuries. After tasting stevia leaves given to him by a Peace Corps worker, May made it his mission to bring the extract from the deliciously sweet plant to the United States. May is now world known as "The Father of Stevia."
May's perseverance and dedication to bringing stevia to the U.S. ultimately resulted in SweetLeaf Stevia Sweetener, a 100% natural sweetener with zero calories, zero-carbohydrates, zero-glycemic index, and zero chemicals. Only cool, purified water and high-grade stevia leaves are used in its "green" processing. SweetLeaf is the 2010-2011 Global Stevia Products Award winner for taste, technology and sustainability.
In March 2011, The American Herbal Products Association (AHPA) awarded James May the 2011 AHPA Visionary Award, in recognition of unwavering, persistent dedication in the advancement of all-natural stevia. May was also was presented with the Lifetime Achievement Award by Stevia World International in June 2010. Today, May is a leading expert on stevia and travels across the world promoting the benefits of the stevia plant.
Wisdom Natural Brands, a leading U.S. manufacturer of stevia products, offers SweetLeaf Stevia Sweetener in convenient double-serving packets. SweetLeaf Stevia Sweetener is sold in boxes containing either 35 or 70 packets. Each packet replaces two teaspoons of sugar. SweetLeaf is also sold in the SweetLeaf Stevia Plus® Shaker Bottle for easy home use and SweetLeaf SteviaTabs™ Dissolvable Tablets for easy on-the-go use.
For more information, visit http://www.wisdomnaturalbrands.com.
###