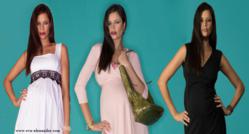 London, UK (PRWEB) March 29, 2013
When it comes to maternity fashion London has become the leading trendsetter for inspiring designer maternity wear collections. With new designers showcasing their lines every year, a woman has never had so many choices. One of the favourites has become Eva Alexander, a brand that found its beginnings in London but is now sold in boutiques and department stores internationally. What is unique about Eva Alexander is that regardless of whether a woman's style is metropolitan chic, casual elegance, modern glamour or classic and smart, Eva Alexander has become renowned for creating those must-have iconic maternity pieces for women during their pregnancies.
This season is no exception. Women have never looked so sexy and yet eternally classic during their pregnancies. The collection features a series of eye catching summer maternity dresses, fabulous summer essentials in a beautiful palette of colours, an exciting new swimwear line, and a new range of distinctive suiting and statement tailored pieces created in gorgeous lightweight fabrics to make every woman look and feel chic & stylish during the warm spring and summer months.
The best selling favourite for this season is the Gathered Faux Wrap Maternity Dress. As far as maternity dresses go, this one is an everyday favourite that is sexy, yet elegant with a chic easy style about it. The perfect dress for an evening out or, styled more simply, worn to the office, it creates a flattering silhouette on every figure.
For a more classic look, our fashion savvy mums-to-be love the Audrey maternity dress, in black, white and khaki. The perfect summer dress for special occasions and weddings is the Lace Trim maternity dress, but the quintessential must-have for every woman, is the Bandeau Stripe maternity dress. Designed with an air of casual sophistication, this maxi dress can take any woman from the beach to a formal evening out in a few short steps.
The career oriented mum-to-be also has a number of new styles to choose from, including new summer maternity suits with designer accents paired with exquisite matching tailored maternity skirts made in a gorgeous stretch cotton that shapes a woman's figure when she wears them.
Dressing well with a sense of style is no easy feat during maternity and finding those special pieces has become increasingly more straight-forward when a woman is shopping in the right places. With the new designer maternity wear brands that have been hitting the market, Women no longer need to give-up on fashion or the quality of their maternity clothes during pregnancy. Designer maternity clothes have become even more easy to find now that a number of high-end online maternity boutiques have opened where only the best brands in maternity fashion can be found. Of particular note are Nordstrom in the U.S., where there was a sigh of relief that could be heard around the world as soon as the news went out, and ZOYOKO.com in Europe, if you're looking for gorgeous European design, ZOYOKO.com is the place to go.
Eva Alexander launched its online maternity wear shop at http://www.eva-alexander.com in January of 2011, and has quickly become one of the trendsetters in maternity wear fashion. The creation of stylish maternity designs that combine figure flattering silhouettes, modern lines and smart tailoring with luxury fabrics, distinctive detail and quality workmanship has been received with rave reviews. With a clientele that ranges from professionals and executives to celebrities and style savvy fashionistas, Eva Alexander has been embraced internationally and continues to grow from strength to strength. With three iconic collections: Essentials, The Office and Twilight Beauty, a woman is always fashionably dressed during her pregnancy.