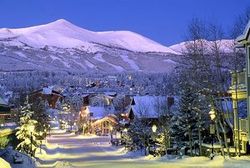 Summit County real estate has fared the economic crisis much better than other regions nationwide
Breckenridge, CO (PRWEB) July 26, 2010
Summit County, Colorado, real estate is showing signs of recovery. From January through May 2010, the number of sales in Summit County real estate increased 20 percent, compared to the first five months of 2009. Prices increased by 4 percent overall, according to Land Title Guarantee Company in Breckenridge.
Breckenridge real estate leads the way with the highest sales and prices in Summit County real estate. A Breckenridge ski-in, ski-out home sold for a record $8.29 million in 2009. At the end of January 2010, the most expensive residential Breckenridge land sold for $3.3 million. It was a Breckenridge ski-in, ski out home site, located next to Breckenridge Ski Resort's Peak 8.
"Summit County real estate has fared the economic crisis much better than other regions nationwide," said Breckenridge real estate broker Natasha Bassova. "We're poised for a strong recovery, and we're already beginning to see Summit County home sales pick up."
Summit County real estate sales did not slow until late 2008 — well after other regions — and Breckenridge, Dillon, Keystone, Frisco, Silverthorne and Copper Mountain real estate prices didn't take as big of a hit as most real estate throughout the United States.
From January through May this year, in-town Breckenridge real estate sales have accounted for 36 percent of Summit County real estate transactions, selling for an average of $342 per square foot, or $744,532. With downtown homes, Breckenridge ski-in, ski-out homes and Breckenridge Golf Course homes, Breckenridge real estate sales show significant increases when compared to 2009 but still lag by about 24 percent when compared to the record-breaking year of Breckenridge real estate sales in 2007.
Silverthorne real estate showed the second strongest sales in terms of monetary volume in Summit County, with an average residential price of $689,108 and median price of $506,500.
Keystone real estate and Frisco have delivered the highest number of transactions so far this year, after Breckenridge properties. Dillon real estate showed an increase in both median single-family and multi-family prices, as did Breckenridge. Copper Mountain real estate increased by 6 percent in its median multi-family sales.
Part of Breckenridge real estate's strength depends on sales of Breckenridge ski-in, ski-out condos, particularly at One Ski Hill Place, a luxury resort at the base of Breckenridge Ski Area. The highest priced sale at One Ski Hill Place in May was $2.69 million, and the average price per Breckenridge ski-in, ski-out condo there was $1.49 million.
Summit County real estate offers a variety of properties, from Dillon lake condos to Breckenridge, Copper Mountain and Keystone ski-in, ski-out homes.
"Since it is a world-class resort community right off of Interstate 70 and just over an hour from Denver, Summit County real estate is still extremely valuable and highly desirable," Bassova said.
For additional news on Summit County real estate, contact Natasha Bassova, broker and owner of Resort Real Estate or visit luckymountainhome.com.
About Resort Real Estate, Inc.:
Resort Real Estate, located in Breckenridge, Colo., has been working with buyers and sellers of Summit County real estate since January 2002. It offers the most comprehensive website on Breckenridge and Summit County Colorado real estate, as well as information on the mountain resort community's year-round events, activities, restaurants, stores, new developments, road conditions and more. Owner Natasha Bassova is a full-time broker committed to serving every client's needs; she usually responds to web inquiries within an hour and can show properties on short notice in her luxury BMW.
Contact: Natasha Bassova, broker and owner
Resort Real Estate
(970) 389-8899
http://www.luckymountainhome.com/
# # #