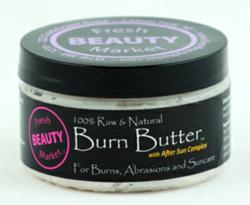 Caffeine has been clinically proven to protect the skin from cancer when applied topically, and to promote aptosis in cancerous skin cells.
Clifton Park, NY (PRWEB) July 06, 2011
GSC Products has launched a revolutionary burn relief cream using a little known deep sea microorganism as the active ingredient. Fresh Beauty Market brand Burn Butter features Thermus Thermophilus, a microorganism that lives in deep sea environments once considered too hostile for any life. It thrives in high temperatures up to 200°F and pressures up to 400 times greater than the atmosphere itself. In order to survive, Thermus Thermophilus organisms have equipped themselves with unique defense mechanisms to protect and repair cells after exposure to severe temperature fluctuations and low oxygen levels.
Known commercially as Venuceane, this ingredient mimics the protective enzymes found naturally in the skin, but at astronomical rates. Venuceane provides stronger skin protection than commonly known antioxidants such as Vitamin E, Vitamin C and Vitamin A. Clinical tests have also shown that Venuceane is capable of protecting against DNA damage from UVA and UVB radiation while killing free radicals on contact. Venuceane has also been shown to reverse wrinkles, freckles, sun spots, age spots and superficial capillaries when applied topically.
Fresh Beauty Market Burn Butter also uses Caffeine, an ingredient proven to reverse UV damage and protect against cancerous skin cells. According to Wayne Perry, Head of Product Development for GSC Products, this new Burn Butter provides instant skin healing results.
"The venuceane and caffeine are important for sure, but our base of natural honey, aloe butter and kola nut are equally important. Honey is highly anti-bacterial and aloe provides instant pain relief, while kola nut soothes and repairs skin. Most of the symptoms caused by sunburns and other minor burns are gone within minutes after applying this all natural cream", says Perry.
Fresh Beauty Market Burn Butter is sold in natural markets, supermarkets, beauty shops and online. For more information, visit FreshBeautySkincare.com.
About GSC Products, LLC: This company is best known for developing the world's first capsaicin (hot pepper) anti-itch products under their Greensations brand. GSC Products was founded by Wayne Perry, inventor of Sinus Buster, the world's first capsaicin nasal spray. GSC Products manufactures ThermaSkin, ThermaScalp, ThermaFeet, Youthful Trends and Venomous brands, as well as their latest brand - Fresh Beauty Market, which includes their Youthful Trends beauty stores and related products.
###