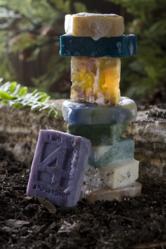 What attracted me to a possible relationship was the stated goal of helping to aid these amazing folks on their journey toward independence
Ware, MA (PRWEB) March 08, 2012
Joining the socially conscious movement, business partners Kurt Schubach & Britney Coopee of Sun Dance Tanning have expanded their marketing platform via a business relationship with a company that is changing lives daily through a product lineup featuring the finest in organic soap products. "Being able to announce a partnership with a company called "I am a Force4Good" and their business model that affects many on a major positive scale is a real honor," said Britney Coopee.
The relationship involves Sun Dance Tanning offering a product line of the finest in Organic Soaps, Soy Candles & Butter Body along with Jewelry. "Our business partner has a unique program that targets individuals involved in abusive relationships and through connections is able to offer the steps necessary toward full recovery," said Schubach, "as they can provide steady employment and the training necessary for individuals to re-enter society as positive contributing members."
http://www.IamaFORCE4GOOD.me 's core line of products is Organic & Naturally based featuring:

True Essential Oils
Tested in Massachusetts / California
Certified Organic & Fair Trade Standards
Product Developers Trained at Northwestern / Harvard Colleges
"What attracted me to a possible relationship was the stated goal of helping to aid these amazing folks on their journey toward independence," said Coopee, "and the aspect of the social program platform that focuses on a JOB as the key to re-building lives offers an obvious WIN/WIN situation and I love the high quality product lineup that is offered to consumers."
Schubach backed his partner's comments with another area of the "I am a Force4Good" operation that offers overseas needed relief. "A relationship with an organization created a definite Yes vote for myself," said Schubach, "as being able to help fight poverty and empower indigenous women in the Guatemalan Highlands is a great feeling as poverty effects that part of the world terribly and 67% of their children are malnourished .... being able to address this situation through an Artisan Cooperative to sales opportunities in the USA is a great cause and an agenda that my office takes pride in being active with."
Sun Dance Tanning is located in Ware, MA at 89 Main Street, Suite 3 or for more information call 413-277-0546 or on Facebook at http://facebook.com/SunDanceTanning
I am a FORCE4GOOD is a direct distribution company which markets 100% natural organic products. These items are produced by non profits and small independent businesses that promote training and support to people from disadvantaged backgrounds. These women and men regaining their independence are from various social areas and consist of single parents, abused women, elderly, homeless and disabled people. For more information go to http://www.iamaforce4good.me/ or contact Community Relations at 877-762-7411 ext 2.