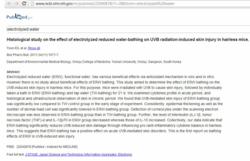 The data indicates that Electrolyzed Reduced Water bathing significantly reduces UVB-induced skin damage.
Boca Raton, FL (PRWEB) March 23, 2013
The newsletter that Bawell Health Water published today explains that the PubMed abstract shows a new health benefit relating to the treatment of skin which has has been sunburned, damaged by the sun or by UVB radiation. The newsletter explains that this medically researched ionized water could help to speed up the healing process of a sunburn, skin cancer, and skin with UVB damage, when the ionized water is used for bathing."
The PubMed abstract PMID 22040878 was conducted to discover the effect of ERW, or electrolyzed reduced water, when used for bathing UVB radiation induced skin injuries. The best water ionizer brand machines, like the Bawell water ionizers, produce electrolyzed reduced water. ERW is rich in hydrogen (owing to the electrolysis) and has excellent antioxidative properties. The PubMed abstract states, "The data indicates that ERW-bathing significantly reduces UVB-induced skin damage."
MedScape.com published an American Journal of Clinical Dermatology abstract that discusses UV-induced Skin Damage, and Non-melanoma Skin Cancer. The abstract stated, "Photoaging and the development of skin cancer are of increasing importance, since changes in lifestyle have led to a significant increase in the individual cumulative UV doses. This trend is likely to continue in the future. Therefore, the adverse effects of UV irradiation on the skin have become a major human health concern."
"With UVB skin damage risks and concerns increasing, because of the increased exposure to harmful UVB rays, new and innovative treatments are imperative," explains the Bawell Health Water newsletter. "That is why Bawell designs alkaline water ionizers with one thing in mind -- health. Ionized water is healthy water that provides incredible short-term and long-term health benefits along with great taste," the Bawell newsletter goes on to explain.
SkinCancer.org reports that getting just 1 blistering sunburn during childhood or adolescence will more than double a person's chance of developing skin cancer, later in life. Reporting medical research on ionized water to learn about water ionizers medical benefits, is a commitment that Bawell will continue to help keep the public informed of new developments with water ionizers.