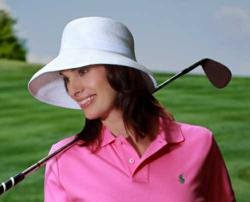 SunGrubbies.com welcomes new sun protective products that are dual purpose!
San Diego, CA (PRWEB) March 12, 2013
A great addition to the large line of sun protective sun hats at SunGrubbies.com is the Dinah Shore Golf Sun Hat. This hat is one of the most popular hats on the Florida golf courses. Women will love its versatility because it comes with a clever asymmetrical brim; four inches in the front and three inches in the back, which makes it a hat with two brim sizes. This creative feature makes it possible to switch the hat around to get the maximum sun protection where it is needed. Do not limit its use to the golf course though, because it also works well in the garden or on walks.
The Cascade sun hat offers twice the protection but it is an all-season and all-weather hat that protects regardless of the forecast. The breathable fabric works well in warm sunny weather but this hat also has the added bonus of being waterproof. The hat's fully sealed seams will keep heads dry no matter how wet the weather.
The Capri Skort has been manufactured with a compression fabric that is designed to direct oxygen to working muscles. This helps with injury prevention and reduced lactic acid build up. The fabric is soft but durable and will move moisture away from the skin, a feature called "wicking. There is a pocket in the waistband and even a ball pocket on the leg. The skort has a short feminine skirt combined with high calf leggings. It was designed for sports but it is fashionable enough to wear around town.
The UV Crop Top is a great layering product that can be worn year round. The soft fabric feels good against the skin and is quick drying. It works well to wear over a tank or tennis top after exercising or wear it under outerwear. An added feature is the elongated sleeves with thumb holes that offer hand protection.
Men will appreciate the new Performance Polo golf shirt. The special performance fabric will provide a cool and comfortable round of golf and its classic lines make it a favorite on the course and off. This shirt also doubles as a great travel shirt because the fabric has the added bonus of being practically wrinkle free.
SunGrubbies.com offers sun protective products for people who want to protect their skin from the dangers of UV rays. Sun protection should be practiced year round so be sun smart and choose products that provide maximum protection. Do not rely on one product for complete protection. The best plan is to combine sun protective products with sun safety measures.
Since the founding of the company in 1997, the mission of SunGrubbies.com has been to provide attractive and comfortable sun protective clothing and accessories of the highest quality and reliability at affordable prices. Many of their products have been approved and recommended by the Skin Cancer Foundation and the Melanoma International Foundation. Every product has been laboratory tested for their sun protective ability and every purchase is 100% guaranteed.
Visit http://www.sungrubbies.com for more information about their sun protective products. They can also be reached toll free at (888) 970-1600. Check them out on Facebook. To join the SunGrubbies.com affiliate program, go to http://bit.ly/ifRDrH. Their boutique showroom and hat shop located in San Diego is open by appointment.