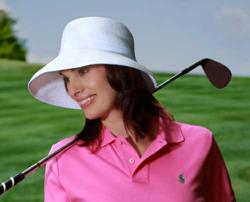 The number one cause of premature aging and skin cancer is excessive exposure to UV rays.
San Diego, CA (PRWEB) March 26, 2013
SunGrubbies.com, a leading online retailer of sun protective products, is pleased to welcome sun protective products designed especially for golfers. A round of golf is usually played during the time of day when UV (ultraviolet) rays are at their strongest, 10:00 AM to 4:00 PM. This is the time when it is especially important to protect skin from damaging UV sun rays.
Wrinkles, age spots and saggy skin are evidence of too much time spent outside without adequate sun protection. The number one cause of premature aging and skin cancer is excessive exposure to UV rays.
Fabric provides the best sun protection against sun damage. For areas that cannot be covered, use sunscreen. A great website for golfers is http://www.SunSafe.org. This site has informational videos filled with tips about sunscreen and sun protection just for golfers.
Golfers will also want to check out the "Golf" section under the "Shop by Activity" section at http://www.SunGrubbies.com. There golfers will find unique products that are perfect for their next round. Items such as sun gloves, sun sleeves and sun dickeys are available for men and women in addition to their selection of sun protective golf hats, shirts and pants.
Women will find stylish golf hats like the new sassy Sydney Fedora or versatile UV Golf Cap. A favorite on the Florida courses is the smartly styled Dinah Shore Golf Sun Hat. These fashionable hats offer great sun protection and also have the added bonus of being packable.
Men will appreciate the selection of sun protective polo shirts like the Everyday UV Polo and The Winchester Men's Golf Polo. These classic shirts are cool and comfortable on or off the course. The Eagle Hat is a great choice for a day of golfing. This hat is lightweight and has a removable chinstrap with ventilating side panels for comfort.
It is important to remember that no single product provides 100 percent protection against UV rays. Combine a wide brim hat, natural sunscreen and practice sun safety measures such as seeking shade when possible to achieve maximum protection.
SunGrubbies.com offers sun protective products for people who want to protect their skin from the dangers of UV rays. Sun protection should be practiced year round so be sun smart and choose products that provide maximum protection. Do not rely on one product for complete protection. The best plan is to combine sun protective products with sun safety measures.
Since the founding of the company in 1997, the mission of SunGrubbies.com has been to provide attractive and comfortable sun protective clothing and accessories of the highest quality and reliability at affordable prices. Many of their products have been approved and recommended by the Skin Cancer Foundation and the Melanoma International Foundation. Every product has been laboratory tested for their sun protective ability and every purchase is 100% guaranteed.
Visit http://www.sungrubbies.com for more information about their sun protective products. They can also be reached toll free at (888) 970-1600. Check them out on Facebook. To join the SunGrubbies.com affiliate program, go to http://bit.ly/ifRDrH. Their boutique showroom and hat shop located in San Diego is open 10:00 am to 2:00 pm.