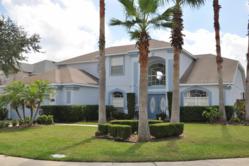 Professional and friendly service is why guests return again and again.
Orlando, Florida (PRWEB) March 27, 2013
SunKiss Villas is an up and coming force in the Orlando Vacation Rental industry. Offering quality, private vacation home rentals near Disney World in Orlando, Florida with professional service and an easy to use online reservation system it is no wonder guests are excited. The website is well laid out and easy to navigate and best of all it is not cluttered with adds and other distractions. The search feature makes it easy to navigate, find the villa and be reserving a vacation home near Disney in as little as 2 clicks. Browsing the entire inventory is always an option with the ability to view pictures of each home, as well as more detailed amenity lists.
With homes ranging in size from 3 to 6 bedrooms and geared to fit every budget, finding that dream vacation home becomes very easy. Because these homes are convenient to all the Orlando attractions, including Universal Studios, SeaWorld, Disney and more, the villas are even more appealing.
"Many of our homes, including our standard homes, have amenities which other agencies consider executive level. This includes wireless broadband and game rooms. This makes our homes an even greater value," says Mark Douglas, CEO of SunKiss Villas.
In the past month SunKiss Villas has added 5 more vacation homes to its inventory of Disney Vacation Home Rentals. In addition, more staff has been added enabling SunKiss to position the company as a driving force in the Orlando Vacation Rental industry. "Although by some standards we are considered small with 45 homes in our current inventory we continue to grow. We expect to have a banner year for reservations and would love to have more homes to offer our guests, including smaller units of 1 and 2 bedrooms. Our growth is due to the quality support staff we have. That's why our guests keep coming back," says Mark Douglas.
SunKiss Villas is not new to the industry. It has been in operation since the beginning of 2000, starting as a mom and pop operation with a single home. It has grown over the years to its current level and is looking at greater growth this year.
With beautiful vacation homes in great locations near Disney World, good amenities, top quality guest services, the best support staff and value to guests, SunKiss Villas is worth checking out when planning a trip to Orlando and Disney World.