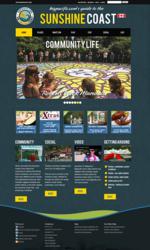 "The Sunshine Coast is an amazing place to visit and live. I wanted to recreate the online experience to match what it feels like in our communities, and help people make real connections rather than simply browse a directory."
Sechelt, British Columbia, Canada (PRWEB) March 15, 2013
Bigpacific.com, the premier online destination for the Sunshine Coast of BC since 1997, is pleased to announce a fully redesigned web site and user experience for 2013, and a 'Find the Fish' Contest Kick Off Event.
The Sunshine Coast is a part of the British Columbia mainland, and is separated from Vancouver by the fjord of Howe Sound. It includes a string of communities spread along 180 kilometres (111 miles) ranging from hamlets of less than a thousand residents to towns of 5-10,000 and one city of 30,000 at the northern end of the Sunshine Coast Highway, all spread along the protected coastline and bordering the Salish Sea. The region is often described as stretching 'from Howe Sound to Desolation Sound' and is one of the most unspoiled areas so close to BC's Lower Mainland.
Accessed by regular scheduled BC Ferries runs out of the West Vancouver Horseshoe Bay Terminal, the Sunshine Coast is within an hour of Vancouver but worlds apart in atmosphere. The Coast is known for an exceptionally high per-capita ratio of people making a part or full-time living from the arts, a large sustainability/eco-friendly focus in its second decade or organized development, a growing social enterprise sector, and exceptional and accessible recreational environment.
To help visitors with trip planning, location research or connect locals with each other, Bigpacific.com has undergone a major redesign.
Along with a new expansive and mobile-friendly look - big images, slideshows, page-specific/local-specific ads that help connect site visitors with the content they most want - visitors to the site can check out trending topics on the curated social hub, explore pinboard-style events calendars, watch the embedded Sunshine TV Network for 100% local content, find hot deals, and explore RSS feeds for everything from to-the-minute new hiking trail discoveries to book reviews by local authors placed in context on the regional hub.
"There have been so many changes in how web sites and social media create connections for people with the people, places and things that interest them that it was time to do a full-scale reimagining of this venerable, leading web site," says Bigpacific.com's creator and sole operator, Laurie McConnell, who also runs a parent web development company, Bad Dog Design.
"I wanted to keep the signature style - personal, quirky, and decidedly original - but also innovate beyond what others are doing to welcome visitors and residents to our area and help locals connect with one another in meaningful ways."
Bigpacific.com also includes a Sunshine Coast-specific Social Network, iTunes app (Guide to the Sunshine Coast), YouTube channel of curated videos, and online store with Sunshine Coast T-shirts, hoodies and Sunshine-branded curios.
To celebrate the launch of the new Bigpacific.com, visitors to the site are invited to enter the April 'Find the Fish' contest and enter to win one of the following prizes: a 2 night getaway to Moon Dance Cabin in Pender Harbour, Intro to Kayaking for Two (or half-day rental for two) with Halfmoon Sea Kayaks, a Sony E-Reader with Wifi, or a Sunshine Coast history glossy coffee table book.
To enter, explore the site and look for 10 sea creatures and then fill out the entry form with the page locations where the fish are located. All correct submissions will be entered into the random draw. The 2 Night Getaway, and Intro to Kayaking for 2 must be redeemed in April, 2013.
Deadline for entries is noon on March 29th, 2013.
Full details are available on the Bigpacific.com Magazine entry page.