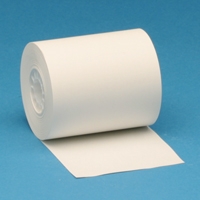 As other vendors are reducing the size of their paper rolls, we are doing just the opposite and looking for ways to increase the size of rolls to provide better value for our customers."
Danvers, MA (Vocus/PRWEB) April 06, 2011
POS Supply Solutions, Inc. (POS Supply) offers two super saver receipt paper rolls as part of their comprehensive line of thermal paper.
POS Supply Solutions innovative super saver receipt paper rolls make businesses more efficient and translate directly into bottom line savings. With a lower cost per foot; shipping, handling and warehousing costs are dramatically reduced. Larger rolls mean less roll changes and register downtime, saving valuable time and money. With super saver rolls, businesses are able to spend more time servicing customers and less time servicing their registers.
Super saver receipt paper rolls come in two sizes: 2 1/4" x 110' Super Saver Thermal Roll Paper and 3 1/8" x 301' Super Saver Thermal Roll Paper and are made from an OEM approved thermal paper grade, especially designed to deliver top-notch performance for transaction printer applications. The unique paper roll retains the speed and strength of a traditional POS paper roll, while giving customers a better yield.
"Our super saver rolls are one of our most popular products" said POS Supply's President Stephen Enfield. "As other vendors are reducing the size of their paper rolls, we are doing just the opposite and looking for ways to increase the size of rolls to provide better value for our customers."
POS Supply Solutions carries a complete line of paper rolls including thermal, single-ply bond, carbonless multi-ply and custom printed paper rolls. Their paper roll products are designed to deliver high performance and compatibility in all common transaction printers while minimizing the user's total cost of ownership. Customers can order thermal receipt paper from POS Supply Solutions with total confidence that they are receiving premium quality products at a great price.
About POS Supply Solutions
POS Supply Solutions provides point of sale and transaction supply solutions, serving a full spectrum of hospitality, retail, financial, gas station, medical, wireless and business transaction applications. Established in 1999, POS Supply Solutions' corporate facility is located in Danvers, MA with distribution warehouses strategically located across the United States. Over the past 11 years, POS Supply Solutions has worked with thousands of individuals and companies to ensure they receive the point of sale supplies needed for successful and efficient business operations.
Contact:
Alethea Copelas
Product Marketing Specialist
POS Supply Solutions
(978) 406-4230
acopelas(at)possupply(dot)com
http://www.possupply.com
###