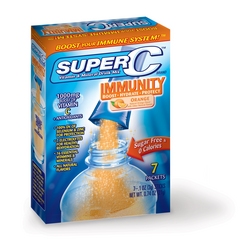 While SUPER C IMMUNITY is a great defense during cold and flu season, the product has been formulated, packaged, and priced for daily use and year round protection
Altamonte Springs, FL (PRWEB) December 16, 2008
The economy may be weak - but cold and flu season is still as powerful as ever. Now there's an affordable and natural way to help fight against the damaging effects of winter. SUPER C™ IMMUNITY is a new functional vitamin and mineral drink mix from Solis Brands. It is a refreshing, great-tasting beverage, and provides a healthy daily immune system boost of vitamin C, zinc, and antioxidants.
"A proper diet, sufficient sleep, and frequent hydration can be simple but effective tools in keeping colds and flu at bay this winter," says Harvard physician Dr. Marcus Elliott, MD, who works with world-class athletes from the US Olympic Team, NFL, and NBA. "Research is showing us more and more that individual nutritional components such as vitamin C, zinc, and antioxidants can contribute to a healthy immune system."
Solis Brands health and science professionals developed SUPER C with the input of doctors, nutritionists, and dietitians. Sugar free and all-natural orange flavored SUPER C IMMUNITY is formulated to boost, hydrate, and protect. It gives a body a fighting chance to stay healthy with an immune system boost of 1,000 mg of healthy vitamin C along with 100 percent daily value of selenium and zinc. SUPER C also contains additional antioxidants to help protect and repair, 7 diverse electrolytes for healthy rehydration, and 16 essential vitamins and minerals.
SUPER C is conveniently packaged in single-serve powder stick packets so it is easy to carry and convenient to use at home, work, or travel. To get all the benefits of SUPER C, just mix it with 16 oz. of bottled water or tap water and enjoy the crisp and invigorating orange flavor.
"While SUPER C IMMUNITY is a great defense during cold and flu season, the product has been formulated, packaged, and priced for daily use and year round protection," said John Serieka, Solis Brands' President and Chief Marketing Officer. "SUPER C IMMUNITY, along with the entire SUPER C line of products, addresses the daily health and well being needs of anyone leading an active and often hectic lifestyle."
SUPER C is also available in ENERGY, SLEEP, BONE & JOINT, and SLENDER formulas.
"While the efficacy of our products is our primary concern, we also recognize that it is critically important that they be affordable, especially in our current economy," said Serieka. "Obviously everyone is being very careful about where and how to spend their dollars, but no one wants to neglect their health and wellbeing. SUPER C offers an affordable option for everyone to help maintain a healthy and active lifestyle. Our entire product line contains only the highest quality ingredients and is a terrific consumer value when compared to other competitive products."
SUPER C can now be purchased online and at supermarkets and drug stores nationwide. For a location near you and for additional product information please see: http://www.drinksuperc.com
About Solis Brands, Inc.:
SUPER C™ is a trademarked brand of Solis Brands, Inc. Solis was founded in 2006 in response to the growing consumer demand for healthy and nutritious food and beverage products that are both functional and convenient. Solis is managed by two veterans of the food & beverage industry, John Serieka and Bruce Svetz, who collectively have more than 40 years of experience developing channels and brands for Fortune 50 companies, including: Pepsi, Gatorade, Kraft, and Nestle. Solis is headquartered in Altamonte Springs, Florida.
###