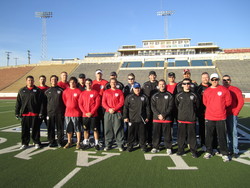 NCS founder and former NFL kicker Michael Husted remarked, "We are committed to helping young athletes learn proper technique as well as to help them navigate through the recruiting process so that they can leverage their sport to get a college education.
Solana Beach, CA (PRWEB) January 20, 2011
Greetings from NCS!
We had yet another successful camp this past weekend January 8th-9th in San Antonio, Texas at the famous Alamo Stadium. The National Camp Series put on Super Camp V, a high school event for snappers, kickers and punters looking to get high level instruction and position themselves to play at the college level. The weather held up for the most part, being breezy and averaging in the low 50's. Campers had hands on training and evaluation from an amazing group of instructors including former NFL, current UFL, college kickers, punters and long snappers. Big names such as Craig Hentrich, Michael Husted, Louie Aguiar, Mike Hollis, Lee McDonald, Tom Feely, Dan Orner, Chris Shaw, Nick Novak and many others provided well over 40 years of NFL experience and knowledge.
The 2011 class had a very strong showing throughout the camp, with many proving they can take their skills to the next level. This year's class includes a solid group of kickers and punters who can make an immediate impact on a division 1 roster.
Class of 2011 "Significant 7" list includes:
1. Will Johnson, 6'3, 190 lbs, Kicker, Earl Rudder High School, Bryan, TX
2. Zachary Douglas, Kicker, 6'3, 190 lbs, Fort Meyers HS, Fort Meyers, FL
3. Chad Levin, Kicker, 5'9, 165 lbs, Bentonville HS, Rogers, AR
4. Will Conant, Kicker, 6'2, 195 lbs, Edmond Memorial HS, Edmond, OK
5. Kyle Lawrence, Kicker, 5'7" 145 lbs, Kecoughtan HS, Hampton, VA
6. Patrick Toole, Kicker, 5'9, 160 lbs, Wallkill HS, Wallkill, NY
7. Lawson Furr, Kicker, 5'10", 175 lbs, Mount Tabor HS, Winston Salem, NC
Campers from the classes of 2012, 2013 and 2014 also were able to display their skills. The kickers and punters from all four graduating classes were evaluated using NCS' objective point system platform. During the charting, each NFL associate closely observed their performance and assigned character ratings based upon strength, technique, and mental toughness.
Here are Super Camp V's top five from each class in overall field goal, kickoff, and punt averages:
Class of 2011 Kickers and Punters:
Kickers (FG's ad KO combined)
1. Will Johnson, 885 points
2. Zachary Douglas, 855 points
3. Kyle Lawrence, 838 points
4. Will Conant, 815 points
5. Alex Catron, 802 points
Punters
1. Joey Roth, 841 Points
2. Will Conant, 817 points
3. Mark Minton, 793 points
4. Mattias Ciabatti, 783 points
5. Josiah Yazdani, 758
Overall Points Leaders (Kicking, Kickoff and Punting Points):
1. Will Conant, 1,632 points
2. Will Johnson, 1,607 points
3. Zachary Douglas 1,596 points
4. Kyle Lawrence, 1573 points
5. Alex Catron, 1,527 points
Class of 2012 Kickers and Punters
Kickers (FGs' and KO combined)
1. Aleem Sunanon, 857 points
2. Joseph Speshok, 828 points
3. Sam Falkenhagen, 826 points
4. Jake Joyner, 813 points
5. Bradley Pinion, 776 points
Punters
1. Bradley Pinion, 840 points
2. Connor Fitzgerald, 805 points
3. Aleem Sunanon, 763 points
4. Paul Vogel, 762 points
5. Alex Boy, 760 points
Overall Points Leaders (Kicking, Kickoffs and Punting):
1. Bradley Pinion, 1,672 points
2. Aleem Sunanon, 1,620 points
3. Sam Falkenhagen, 1,561 points
4. Connor Fitzgerald, 1,535 points
5. Paul Vogel, 1,532 points
Class of 2013 Kickers and Punters
Kickers (FG and KO combined)
1. Kyle Brinton, 772 points
2. Matt Wylie, 762 points
3. Logan Gray, 754 points
4. Jim Cooper, 752 points
5. William O'Briant 751 points
Punting
1. Austin Barnes, 811 points
2. Jim Cooper, 755 points
3. Danny Bowers, 708 points
4. Blake Brewer, 704 points
5. Markus Colin, 684 points
Overall Points Leaders (Kicking, Kickoffs and Punting):
1. Austin Barnes, 1,535 points
2. Jim Cooper, 1,507 points
3. Markus Colin, 1,434 points
4. Blake Brewer, 1,423 points
5. Danny Bowers, 1,399 points
Class of 2014 Kickers and Punters
Kicking (FG and KO combined)
1. Miguel Recinos, 708 points
2. Christian Pereira, 664 points
3. Max Petty, 468 points
Punting
1. Christian Pereira, 641 points
2. Max Petty, 571 points
3. Miguel Recinos, 522 Points
Overall Points Leaders (Kicking, Kickoffs and Punting):
1. Christian Pereira, 1,305 points
2. Miguel Recinos, 1,230 points
3. Max Petty, 949 points
Super Camp V was capped off with a head to head tournament for all kickers and punters to display their ability to perform under pressure. It is an equal opportunity for all kickers and punters to prove they are among the top by taking home the champion's trophy. Here are the results from each class's head to head tournament:
Class of 2011 and College Transfers
Field Goals
1st Joseph Cannon
2nd Mattias Ciabatti
3rd Will Johnson
4th Chad Levin
Kick Offs
1st Will Johnson
2nd Brian Davis
3rd Zach Douglas
4th Tanner Tongate
Punts
1st Joseph Cannon
2nd Scott Ayers
3rd Joey Roth
4th Zach Douglas
Class of 2012
Field Goals
1st Connor Fitzgerald
2nd Camden Bohnert
3rd Brooks Abbott
4th Jake Joyner
Kick Offs
1st Blake Lucas
2nd Sam Falkenhagen
3rd Camden Bohnert
4th Justin Vogel
Punts
1st Andre Vasquez
2nd Worth Gregory
3rd Camden Bohnert
4th Alex Boy
Class of 2013
Field Goals
1st Jim Cooper
2nd Logan Gray
3rd Kyle Brinton
4th William O'Briant
Kick Offs
1st Jim Cooper
2nd Danny Bowers
3rd Blake Brewer
4th Logan Gray
Punts
1st Brett Rattan
2nd Blake Brewer
3rd Austin Barnes
4th Jim Cooper