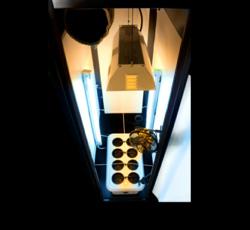 San Francisco, CA (PRWEB) November 21, 2012
The SuperLocker 3.0 is a fully automated, fully contained, odor free, complete grow box that blends in perfectly in any apartment, home, or garage. It fits in so well because its exterior resembles that of a common gym locker, and at 15 inches wide, 24 inches deep, and 66 inches tall, it can slide in just about anywhere. This discreet grow box is powder coated black with a high gauge, high density metal that negates heat transfer from within the box to the outside. The cabinet is completely light proof, locks up tightly so that no intruders can get in, and has an activated carbon filter so that no odor escapes the grow box.
Open up the SuperLocker 3.0 grow cabinet to find not one, but two chambers for both vegetating and flowering all types of plants, from the smallest to largest herbs and vegetables. The two chamber system also means the ability to have a continual harvest, meaning that while plants are flowering down below, there are new clippings that have been cloned, vegetating in the veggie chamber above. Seeds or clones will never be needed again, and nearly a month or more of vegetating time will be saved, so that when plants are finished flowering below, there are new large vegetating plants that are sized to immediately start flowering to continue harvesting seamlessly in the grow box. Take clones from these new ones in the flower chamber and in two months another surprisingly large harvest of fruits, vegetables, or herbs will be ready.
This will establish a perpetual rotation of plants which leads to larger and more frequent annual harvest numbers.
The SuperLocker 3.0 comes fully assembled, is fully automated, and even comes with a free "Super Grow Tips" DVD and lifetime customer service and grow support. This SuperLocker 3.0 special also includes, for a limited time only, a full TechnaFlora hydroponic nutrient package, a TDS meter to monitor nutrients, a PH kit, a net trellis for up to 40% bigger yields, height adjusting 150, 250 HPS, or Procyon 100 LED lighting systems, and the automated ability to leave for up to an entire week at a time. Go to http://www.supercloset.com for more information.