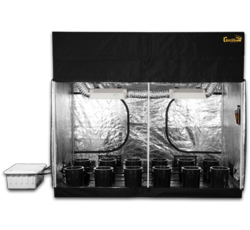 San Francisco, CA (PRWEB) March 19, 2013
The new 4'x4' and 4'x8' SuperRoom Grow Tent packages come with easy to set-up instructions and live tech support. Now customers can call the SuperCloset tech support hotline to get up to the minute grow tent set-up support. SuperRoom packages were designed for ease of assembly including easy to put together pieces, easy to fit together components and design features. Traditionally, beginning a grow tent set-up required that an indoor hobby grower set aside a large block of time to complete the task. Now with SuperRoom Grow Tent Package, a hobby grower can be up and growing within 90 minutes of receiving their product. The Gorilla Grow Tent is the centerpiece of the SuperRoom packages and it assembles very easily and efficiently. Because of the strength of the Gorilla Grow Tent pole structure, a SuperCloset customer can attach up to 150 lbs. of components to the tent poles. The Super Room packages come with pre-cut ducting and tubing so all line runs are consistent and accurate. Because the Gorilla Grow Tents come with multiple port holes both for exhaust and cords, the Super Room customer can configure their exhaust and components based on their room restrictions.
For more information go to http://supercloset.com/product-category/grow-rooms/
About Super Closet:
SuperCloset takes the guesswork out of growing through manufacturing the most innovative and customer friendly hydroponic systems and turnkey grow box units. After 10 years SuperCloset continues to lead the horizontal and vertical growing industry with its commitment to excellent products and world-class customer service.