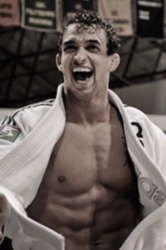 "Romulo is an outstanding representative of Rich's brand being both a highly regarded Gracie Barra Jiu Jitsu professor and a world champion." said Dan Pierce, VP of Brand Strategy and Product Development
(PRWEB) June 12, 2013
Gaspari Nutrition®, a globally distributed sport nutrition company, is proud to announce that its Jiu Jitsu athlete Romulo Barral was victorious in the Medium-Heavy class at the World Championships in Long Beach, California. Barral faced accomplished Brazilian Jiu Jitsu star Braulio Estima in the finals for his fourth world title as a black belt. The Gracie Barra fighter known as 'Rominho' injured his hamstring in Abu Dhabi earlier in the year and was intent on coming back with a vengeance.
"Romulo is an outstanding representative of Rich's brand being both a highly regarded Gracie Barra Jiu Jitsu professor and a world champion. We're proud to have such a dominant athlete on our team who truly utilizes our effective product line in his rigorous training regimen" said Dan Pierce, VP of Brand Strategy and Product Development.
Barral is known for his trademark strength and conditioning, which helped greatly in his rapid recovery from injury. Since signing with Gaspari Nutrition, he has embraced the introduction of supplements like Aminolast, Glycofuse and Superdrive into his program. He trains at his Gracie Barra academy in Northridge, California. Fans and training partners of Romulo know of his dedication to the sport. At only 31, he has already been named to BJJ Heroes Top Ten Brazilian Jiu Jitsu Fighters of all time, and still has a bright future ahead. You can follow Romulo on Twitter (@romulobarral), Facebook, and his Gaspari Nutrition blog.
About Gaspari Nutrition®
Gaspari Nutrition is headquartered in Lakewood, NJ and is a rapidly expanding, healthy lifestyle sports company that develops and distributes a full line of nutritional supplements. Gaspari's propriety and award winning products address all categories of an active lifestyle including muscle building, weight loss, and general fitness through a daily nutritional supplement regimen. They are one of the few companies to sponsor independent, 3rd party research on their products to prove their efficacy. Gaspari Nutrition is sold in over 85 countries, including over 85 Popeye's locations in Canada, and available in over 5,000 US retail outlets that include GNC, Vitamin Shoppe, and Kroger, as well as over 100 online stores, including Bodybuilding.com, Amazon, DrugStore.com, and SupplementsCanada.com. For more information, please visit http://www.GaspariNutrition.com.