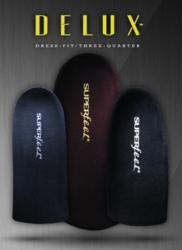 "... 9-5 just got a lot more comfortable."
- Doug Geddes,
VP Marketing, Superfeet
Ferndale, WA (PRWEB) March 01, 2013
Superfeet Worldwide, the market leader in outdoor and specialty run Trim-to-Fit insoles, launches the DELUX Dress Fit 3/4 Insole line for work shoes and high heels, providing their legendary comfort and support at the office or on the go.
"We know the need is vast," said Doug Geddes, Vice President, Marketing. "Too many people experience foot pain or discomfort in their everyday work shoes. That's why we're using our 35 years of experience in designing product for the world's most demanding environments, and adapting it to everyday footwear. We all need a good foundation to be at the top of our game whether we are on the slopes, the track, the trail, or even in the boardroom. The result is that 9-5 just got a lot more comfortable."
The DELUX Dress Fit 3/4 line includes men's and women's product. Each features a microsuede top, high-density foam layer, and biomechanically supportive shape. The women's line also features a product designed specifically for high heels that are one inch or higher. The high heel insole can help relieve pressure under the forefoot by redistributing the weight inside the shoe. Unlike Superfeet's full-length insoles, the DELUX 3/4 insoles do not require trimming to fit in a pair of shoes or boots.
First established as the sports medicine division of Northwest Podiatric, a custom orthotics lab, Superfeet products are crafted with a unique blend of science, biomechanics and experience. "The secret," said Geddes, "is Superfeet's distinctive biomechanical shape and design, which helps to support the foot and naturally absorbs impact. Our high heel insole is a unique piece of engineering. Now a person can look good – and feel good – at the same time."
The new Superfeet DELUX insoles will be available March 2013 at a retail price of $29.99 for both men's and women's products. To find a local retailer, visit http://www.superfeet.com/find-dealer.
About Superfeet Worldwide Inc.:
Superfeet develops and manufactures the world's leading biomechanical insoles and sandals. Originally the sports medicine division of Northwest Podiatric Laboratory, Superfeet was established in 1977 to make the first affordable, professional-grade, over-the-counter orthotics. Since then, Superfeet has focused on training, education and exceptional customer care to sustain more than 80% of the specialty outdoor insole market. An ESOP company, Superfeet is 39% employee-owned. For more information, visit: http://www.superfeet.com.
###