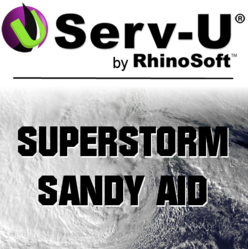 We will do what we can to get data moving swiftly and securely again.
Danbury, CT (PRWEB) November 12, 2012
Today RhinoSoft announced the expansion of its Superstorm Sandy aid program to include first responders and aid agencies outside of New York. Discounted licenses are still also available to businesses and local governments dealing with continuity issues.
RhinoSoft's Serv-U FTP server and FTP Voyager FTP client software are both often used to move large files and folders full of files between computers, offices and data centers.
Free licenses of Serv-U Silver v14, which includes the secure FTPS protocol and a web interface to allow people without FTP clients to transfer files, are now available to certified first responders and aid agencies operating in "disaster declared" counties on the eastern seaboard. Free licenses of FTP Voyager v16, which includes support for scheduled transfers and file synchronization, are also available.
Businesses and local governments who are working to restore their systems or improve business continuity in "disaster declared" counties may also apply for heavily discounted licenses of all Serv-U and FTP Voyager products from RhinoSoft.
To claim free or discounted licenses, first responder, aid agencies, businesses, and local governments should file a "sales support" ticket on RhinoSoft's web site, or contact RhinoSoft directly at (262) 560-9627.
Federal government departments and agencies (such as FEMA) should continue to purchase Serv-U and FTP Voyager licenses through GSA Advantage.
# # #
RhinoSoft (rhinosoft.com) is the global leader in affordable file transfer, with more than 90,000 business and government customers in 90 different countries. Its award-winning and U.S. Army certified Serv-U FTP server software for Windows and Linux and FTP Voyager FTP client software support FTP, SFTP, FTPS and web-based HTTP/S transfers, while embracing emerging technologies such as mobile computing, IPv6, native 64-bit computing and UTF-8/Unicode internationalization.