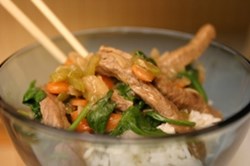 Some of my best family moments and adventures have been mapped out at the dinner table
Grand Junction, CO (PRWEB) November 08, 2012
Supper Weekly, a meal planning resource, announces a new free weekly meal plan posted online every week that includes five easy dinner recipes and a complete grocery list. Heidi Swain, Professional meal planner and Supper Weekly founder, can help answer the "what's for dinner" question. The supper hour is often something missed and that means it is time to decide on a quick, healthy, and delicious meal to feed the family. Instead of ordering pizza, busy families can now turn to Heidi's website supperweekly.com to find a meal plan with a complete grocery list. The free meal plan can be printed at home or pulled up on your smart phone or iPad at the grocery store.
Supper Weekly's online meal plans are designed to save time, money and help waste less food. "If there is a box of rice on a grocery list, there will be more than one recipe that calls for rice during the week so the box doesn't go to waste." Not only will Supper Weekly users be saving money on their weekly food bill, they will be pulling something hot and delicious out of the oven instead of pulling through the drive thru…and according to Heidi "that's a good feeling."
"Dinnertime is the magical hour when everyone is face to face without distraction. It is a chance to be fully present with loved ones. Not only do home cooked meals provide better nutrition, they also foster listening, planning, discovery, laughter, respect, empathy, and family cohesiveness. Some of my best family moments and adventures have been mapped out at the dinner table."
About Supper Weekly
Supper Weekly is the brainchild of professional meal planner, Heidi Swain. For over ten years, Heidi has been compiling, testing, and writing about family friendly recipes. What makes her meal planners truly unique is the grocery list. Each Supper Weekly grocery list has the Quick List Recipe Key ™ that helps users quickly decipher which ingredient goes with which recipe.