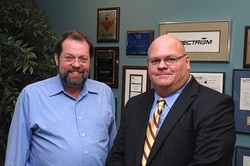 Stow, OH (PRWEB) October 23, 2010
Spectrum Surgical Instruments Corp. was recently visited by United States Congressman Steve LaTourette.
The Congressman provided answers to questions and addressed concerns of CEO Rick Schultz and the employees of Spectrum on a wide range of topics, such as jobs in Ohio, health care reform, and current medical device taxation legislature.
Visiting companies that have demonstrated growth and the creation of jobs, Congressman LaTourette was accompanied on his tour of Spectrum's facilities by his staff and learned about the company's tremendous growth and its creation of jobs in Ohio and neighboring states.
For more information, please contact a Spectrum Customer Care Representative at 800-444-5644.
About Spectrum Surgical Instruments
Spectrum Surgical Instruments has been providing a full line of surgical instruments for Human and Animal health since 1982. Spectrum is a leading provider of surgical instrument repair, sharpening and restoration. Spectrum Surgical provides surgical equipment to surgery centers and veterinary centers across the United States.
We have taken a leading role in the industry by providing free educational services about surgical instrument care. The goal is to educate those who come in contact with surgical instruments to ensure that all are aware of the impact they have on patient safety. Our commitment to quality has led us to increase our quality systems and improvement initiatives. We work directly with customers and industry leaders to offer technology, preventative maintenance, and quality products designed to improve patient safety.
Visit the Spectrum Surgical Instruments blog:
http://www.spectrumsurgical.com/surgical-instruments-blog
Follow Spectrum on Facebook:
http://www.facebook.com/SpectrumSurgical
# # #