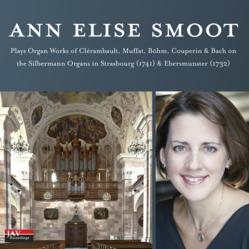 JAV Recordings: founded in 1997 with a mission to record musicians of the highest caliber, performing on exceptional pipe organs around the world
(PRWEB) July 19, 2012
Ann Elise Smoot, a critically acclaimed concert organist and teacher, teamed up with JAV Recordings to record two historic 18th-century pipe organs in the Alsace region of France. For Ms. Smoot, making connections and placing the organ repertoire in its wider musical and cultural context has always been a part of her teaching philosophy and recital programs. She is currently Professor of Organ at Trinity Laban Conservatoire in London, as well as co-founder of the RCO London Organ Forum and Education Editor for the publication Organist's Review. She received her BA and MMus from Yale, studied at the Royal Academy of Music and won two major organ competitions.
Repertoire by Clérambault, Muffat, Böhm, Couperin and Bach are featured on this CD. The program explores the connection between French and German 17th- and 18th-century music. The music is perfectly suited to the 1732 Andreas Silbermann pipe organ of the beautiful Abbey Church of St Maurice in Ebersmunster and to the 1741 Johann Andreas Silbermann pipe organ of St Thomas Church in Strasbourg, organs that reflect both French and German baroque tonal influences.
JAV Recordings hired noted German sound engineer Christoph Martin Frommen to make this Surround Sound recording, using high bit-rate digital converters and seven DPA Brüel & Kjaer microphones. When listening to this recording on a Surround Sound playback system, the results are remarkable. The spatial relationship and ambient environment of both churches are faithfully reproduced, as well as the crystal clear sound of their Silbermann Pipe Organs. The 5.1 Surround Sound File can be downloaded from http://www.qobuz.com
A 24-page booklet with essays, a biography of the artist and numerous photos are part of the package. The recording is available in CD format, iTunes download, high resolution stereo and Surround Sound downloads from Qobuz. The booklet is available in PDF format with the downloaded file. To purchase a CD copy of this recording, visit http://www.pipeorgancds.com
About JAV Recordings:
JAV Recordings was founded in 1997 with one mission in mind: to record musicians of the highest caliber performing on exceptional pipe organs across North America and Europe. Since then, we have been privileged to work with the best talent imaginable, from the artists performing the music, to those behind the scenes producing the comprehensive booklets with photographs and essays that accompany our albums.