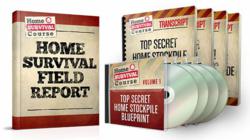 The lesson in the Home Survival Course could be the most important thing anyone could learn in 2013.
Austin, TX (PRWEB) March 21, 2013
Survival course training from nationally renowned experts is now available through SurvivalLife.com's new Home Survival Course, a complete guide to keeping families safe. A recent article from SurvivalLife.com said some of the biggest predicted disasters are showing signs of imminent arrival, and Managing Editor 'Above Average' Joe wanted to do his part to inform and empower those with spouses, kids, and grandkids.
Based on recent data and research, the online prepper community said the lesson in the Home Survival Course could be the most important thing anyone could learn in 2013.
Americans need to face their fears and admit to their true level of readiness, said the article. Basic supplies are needed and should be gathered well ahead of any crisis. The article said there should be enough food stored to last an entire family for months, and water should be kept as well, to use as needed for drinking, cooking, and cleaning.
Keeping a family safe from harm in a post-disaster situation will be a 24-hour a day priority, said the article. There should be some form of protection against the desperation some people will turn to, according to the course.
The article said electricity, gas, and plumbing may not return for a long time after a flood, tornado, or solar flare.
The Home Survival Course will share every detail involved in what their team of experts call the ultimate preparation guide. Training modules in the course focus on the top secret home stockpile blueprint, and the two-hour water purification method. Other topics include family protection from thugs, disasters, and martial law, as well as an energy independence quick start guide.
Thousands of hours of research, interviews, consultations, and experience went into the creation of the Home Survival Course, said the article. Joe is ensuring every concerned American is able to increase their readiness by becoming a member.
Home Survival Course subscribers are instantly able to access the online hub of the course content, available from any internet-connected device and downloadable for on demand use. Two additional bonus reports are included, detailing the most common mistakes made by preppers, and the easy ways to avoid them.
Stockpiling supplies and defending a home may be an inevitable reality, the article said, especially if Americans continue on their path and get caught off guard. Older generations were self-sufficient, and Joe believes this generation can be as well. All it takes is an education, some planning, and some determined action to get prepared, the article said.
SurvivalLife.com is a non-politically biased source that is geared toward the survival side of prepping. Subscriptions to the Newsletter bring all of the latest information from SurvivalLife.com straight to readers' inboxes.
Whether readers need wilderness survival tips or strategies to plan for an urban disaster, SurvivalLife.com covers it all. Well on its way to becoming a preeminent member of the survival blog-o-sphere, SurvivalLife.com is contributing to the conversation and hopes readers do as well.
The Home Survival Course will show how to get started, or how to increase readiness before a disaster hits. The article said anyone can gain extensive knowledge from the latest survival course from 'Above Average' Joe and his SurvivalLife.com team.