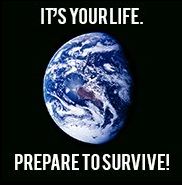 Survival Life acknowledges the need for people to anticipate the unimaginable.
Austin, TX (PRWEB) March 25, 2013
Gone Before Gridlock is the all-inclusive evacuation guide from Survival Life, and it's giving preppers a new resource to develop their emergency plans, said a recently published SurvivalLife.com article.
Gone Before Gridlock was designed by survivalist experts who have spent lifetimes learning and experiencing the situations presented by disasters and emergencies. The article said they have determined the safest and smartest ways to evacuate from danger, and are sharing them in the Gone Before Gridlock system.
Members of the program will gain access to the online hub of resources, where they'll learn the five phases of every disaster. The article said each one introduces a separate window of opportunity to escape the crisis, and spotting the phase changes will be a huge advantage. Gone Before Gridlock will help people predict what sort of disasters they may be affected by, and show them a quick, four-step process that can give them everything they need to evacuate in a moment's notice.
Survival is not only a physical challenge, but a strain on people's mental capacity as well, according to the article. Survival Life believes being prepared in advance of a disaster will give people the survival mentality they need to stay one step ahead and protect themselves and their loved ones.
Gone Before Gridlock will give ideas on creating an evacuation map that avoids all the major choke points of a massive traffic onslaught. Evacuations, specifically out of major metropolitan areas, can be even more dangerous than staying put. Getting stuck on a freeway behind miles of cars decreases the likelihood of safety, and Gone Before Gridlock will help eliminate that possibility.
Survival Life acknowledges the need for people to anticipate the unimaginable. Food, water, and other supply chains can be completely destroyed by floods, hurricanes, disease epidemics, or worse. The article said that having the right information and mindset will give preppers the confidence and knowhow to get through anything alive.
SurvivalLife.com is a non-politically biased source that is geared toward the survival side of prepping. Subscriptions to the Newsletter bring all of the latest information from SurvivalLife.com straight to readers' inboxes.
Whether readers need wilderness survival tips or strategies to plan for an urban disaster, SurvivalLife.com covers it all. Well on its way to becoming a preeminent member of the survival blog-o-sphere, SurvivalLife.com is contributing to the conversation and hopes readers do as well.
Gone Before Gridlock is a carefully designed blueprint masterminded by a professional search and rescue veteran, and was created to help Survival Life followers with their emergency preparation efforts. Find out about accessing Gone Before Gridlock and gaining secure evacuation information.