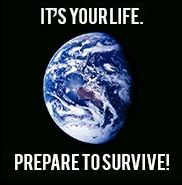 SurvivalLife.com is a non-politically biased source that is geared toward the survival side of prepping.
Austin, TX (PRWEB) March 06, 2013
Survival Life has published the most recent semiweekly Digital Newsletter from its team of expert preppers, and it features articles on footwear, honey, and a quality survival food.
Managing Editor 'Above Average' Joe wrote the main article, focusing on something people use every day: their shoes. Proper maintenance and recognition of wear and tear will help keep footwear in the best shape, and ready to stand up to the stress of a disaster.
"If you are waiting until you walk right out of them before you decide it's time to replace your shoes… you are waiting entirely too long," Joe wrote. The article shares a process Joe refers to as the "press test," used to determine how much wear a pair of shoes has received.
Joe also suggests several tips for getting the most out of shoes or boots, and choosing the right kind for specific daily tasks.
Honey is the topic of the Survival Tip of the Day, where Joe shares an effective and usually unknown method of preparedness. The article examines 15 alternative uses for honey, "a tasty snack that never expires."
Honey, Joe points out, can be used as an antiseptic, an energy booster, a sugar substitute, and even a remedy for burns. The best survival items are ones with multiple uses, and Joe's advice helps preppers understand what's worth having as part of a supply.
The Practical Prepper section of the Newsletter included Joe's honest opinion on boxed instant mashed potatoes, a food he's come to realize fits well into an emergency supply.
"After doing a little research I have found that these pouches and cups of instant mashed potatoes have a fairly long shelf life (roughly 18 months) and I am fairly positive that they would be OK for much longer than that," wrote Joe. He summarized his review of the instant mashed potatoes by saying "At around $1.00 per bag, these are a steal, and they provide a quick tasty meal with minimal water. Even a prepper on the tightest budget should be able to make room for these."
SurvivalLife.com is a non-politically biased source that is geared toward the survival side of prepping. Subscriptions to the daily Newsletter brings all of the latest information from SurvivalLife.com straight to readers' inboxes.
Whether readers need wilderness survival tips or strategies to plan for an urban disaster, SurvivalLife.com covers it all. Well on its way to becoming a preeminent member of the survival blog-o-sphere, SurvivalLife.com is contributing to the conversation and hopes readers do as well.