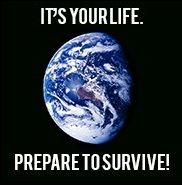 Knowing, understanding, and practicing a plan will instill confidence and trust in a prepper's mindset.
Austin,TX (PRWEB) March 11, 2013
The Prepper's Playbook is SurvivalLife.com's newest Special Report, and it's being made available to website readers and subscribers for the first time. The expertly-designed guidebook was created with leadership from Survival Life's Managing Editor, 'Above Average' Joe, and his lengthy list of resources in disaster preparation.
Prepper's Playbook advises the easiest and most practical ways of ensuring an emergency plan is complete and trustworthy. Advanced checklists, step-by-step instructions, and detailed descriptions of preparation techniques are all provided in the easy-to-follow report. The total length of the Prepper's Playbook is less than 50 pages, but the team at Survival Life agrees the amount of information it supplies is nearly endless.
According to Survival Life, establishing a plan for any crisis situation is the number one process that will increase your chances of staying safe. Knowing, understanding, and practicing a plan will instill confidence and trust in a prepper's mindset, making the first steps the most important ones.
Readers of the Prepper's Playbook will gain knowledge on the three main types of survival situations, and know how to guarantee their basic needs like food, water, shelter, and warmth. Even a slight disruption in an electrical supply or a few inches of rain can cause serious problems, but Survival Life believes they don't need to be life-threatening. They don't even need to be a discomfort, as long as plans were made to deal with them in advance.
Joe and the contributors who developed the Prepper's Playbook took hundreds of hours of research and years of experience and analyzed every aspect of survival known. Then, they boiled down the most critical pieces of the preparation puzzle and included them in the Special Report.
The guidebook will ensure the peace of mind preppers are looking for, with additional information that will help them communicate with family members, neighbors, and friends. Sharing preparation plans is a touchy subject for some, and the Prepper's Playbook will suggest ways to approach it.
SurvivalLife.com is a non-politically biased source that is geared toward the survival side of prepping. Subscriptions to the Newsletter bring all of the latest information from SurvivalLife.com straight to readers' inboxes.
Whether readers need wilderness survival tips or strategies to plan for an urban disaster, SurvivalLife.com covers it all. Well on its way to becoming a preeminent member of the survival blog-o-sphere, SurvivalLife.com is contributing to the conversation and hopes readers do as well.
Survival Life is proud to helping people end the worry and anxiety related to being unprepared. The Prepper's Playbook is yet another quality product offered to Survival Life followers as the quest for ultimate readiness continues.