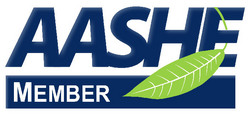 QA Graphics is passionate about helping higher education institutions convey their sustainable initiatives with the campus and the public
Ankeny, IA (Vocus) October 20, 2010
QA Graphics, a provider of educational displays to aid in sustainable education, has recently become a member of the Association for the Advancement of Sustainability in Higher Education (AASHE) to further campus efforts toward building a healthy and just world. Through membership in AASHE, QA Graphics will receive support in advancing its sustainability initiatives throughout the institution and in the community.
"QA Graphics is passionate about helping higher education institutions convey their sustainable initiatives with the campus and the public," said Dan McCarty, president of QA Graphics. "We look forward to working with AASHE and its members to help campuses further their sustainable initiatives."
AASHE enables higher education institutions to meet their sustainability goals by providing specialized resources, professional development, and a network of peer support. Membership covers every individual at an institution, so the entire campus community can take advantage of member benefits.
"We are delighted to have QA Graphics on board and participating in the campus sustainability community," said Paul Rowland, executive director of AASHE. "This shows a real commitment to playing a leadership role in some of the biggest challenges of our time, and provides the campus community with access to thousands of examples of best practices in campus sustainability."
QA Graphics helps higher education institutions facilitate sustainable education by offering an award-winning solution called the Energy Efficiency Education Dashboard (EEED), which provides a creative way to convey sustainable initiatives with the student body, faculty, and community. The EEED is an educational tool used to showcase sustainable practices and display real-time campus resource use, allowing everyone to see how efficient the campus is. In addition to education, the EEED can motivate students and faculty to conserve resources. A campus leaderboard can show current water or energy use among individual floors within a building or in comparison to other buildings, to create an ongoing competition that allows everyone to see how their actions directly impact resource consumption.
The EEED can support a number of higher education programs including the AASHE's STARS program. The EEED also contributes towards satisfying the U.S. Green Building Council's® Innovation in Design Green Education and Innovation in Design School as a Teaching Tool credits under LEED®, and contributes towards satisfying a variety of points under The Green Building Initiative's™ Green Globes® green building rating and assessment system. Learn more about QA Graphics' Energy Efficiency Education Dashboard at http://www.qagraphics.com/eeed.
Among AASHE's major programs is a standardized, comprehensive assessment instrument called STARS, or Sustainability Tracking, Assessment & Rating System. STARS metrics cover every sector of campus, from planning and administration to operations to education and research. With STARS as a roadmap, institutions can select meaningful and appropriate pathways to sustainability while conserving valuable resources, combating global warming, and building healthier communities. AASHE is one of two supporting organizations for the American College & University Presidents' Climate Commitment. Over 650 presidents and chancellors so far have committed to lead their institutions to climate neutrality as soon as possible.
About QA Graphics
QA Graphics is an innovative graphic development company specializing in the green building industry. The company is an industry leader in the design of graphical user interfaces (GUI) and award-winning energy education dashboards used to showcase organizations' building performance and sustainable initiatives. QA Graphics also provides comprehensive creative services including graphic outsourcing, 3D design/animation, drafting, interactive content and website development. Visit http://www.qagraphics.com to learn more.
About AASHE
AASHE is an association of colleges and universities that are working to create a sustainable future. Its mission is to empower higher education to lead the sustainability transformation. It does this by providing resources, professional development, and a network of support to enable institutions of higher education to model and advance sustainability in everything they do, from governance and operations to education and research. AASHE defines sustainability in an inclusive way, encompassing human and ecological health, social justice, secure livelihoods, and a better world for all generations. AASHE is a member-driven, independent 501(c)(3). Learn more about AASHE at http://www.aashe.org.
###