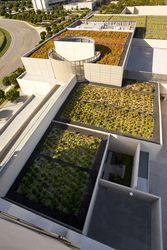 We want to provide them with the ability to live, work, train, and maintain in beautiful, safe, collaborative and sustainable buildings that will enhance their mission and quality of life.
Irvine, CA (Vocus) January 27, 2010
A new partnership between Ahtna Engineering Services, LLC and LPA Inc. means greener, higher quality architecture for federal organizations. Specifically, the United States Department of Defense. And since all new federal construction and major modernization projects must attain a green building rating of LEED Silver or higher, the Ahtna-LPA partnership is ideal.
"We're very excited to be able to bring LPA's portfolio of signature sustainable architecture to our men and women in uniform, and their families," says Ahtna Engineering Director Gregory Grabowski. "We want to provide them with the ability to live, work, train, and maintain in beautiful, safe, collaborative and sustainable buildings that will enhance their mission and quality of life."
Ahtna Engineering Services, LLC an Alaska Native Corporation Small Business Administration SBA 8(a) company, has an established reputation in federal construction and engineering services. Pair this with design firm LPA Inc.'s expansive portfolio and expertise in sustainably designed facilities, and one gets a robust team dedicated to raising the standard for design and construction of federal facilities.
Green credentials? There are plenty. LPA has designed the nation's first LEED for New Construction (LEED-NC) project, NASA's first LEED Gold building, Orange County's first LEED Platinum building, and has the highest percentage of LEED Accredited Professionals in the U.S. -a notable 78 percent.
According to Grabowski, this is about more than retention for the armed forces. Service men and women from all branches of the military deserve the very best schools, athletic facilities, dorms, fire stations, shopping centers and religious establishments which protect their families as they protect our nation. "We want them to have peace of mind about their families at home," he continues. "I grew up on a base and as a Navy Reserve Commander I know, firsthand, the importance that everyone understand what they're working and fighting for."
Additional Ahtna-LPA benefits include past performance and capacity beyond what is traditionally found with competing small businesses and the ability to meet federal requirements for contracting with Disadvantaged Business Enterprise (DBE), and Alaska Native Corporations.
"The benefits of working, learning and training in eco-friendly buildings are well documented and the Ahtna-LPA alliance is focused on providing the finest sustainable facilities for our military and their families," finishes LPA President Dan Heinfeld.
For more information, visit http://www.ahtnaes.com or http://www.lpainc.com.
About Ahtna Engineering Services, LLC
Ahtna Engineering is an established self-performing government contractor with demonstrated experience managing time-sensitive, design-build construction, professional services, staffing augmentation, and environmental remediation projects across the United States. An Alaska Native Corporation SBA 8(a), Ahtna has provided services to the federal government for the past three years.
About LPA Inc.
Founded in 1965, LPA has more than 220 employees with offices in Irvine, Roseville, and San Diego, Calif. LPA provides services in architecture, planning, interior design, engineering, landscape architecture, signage and graphics. They have more LEED certified buildings than any firm in the state and of their employees, more than 78 percent are LEED accredited professionals. With extensive experience in public and private architecture, LPA designs a diversity of facilities that span from corporate and civic establishments to K-12 schools, colleges and universities.
About LEED Green Building Certification
The LEED green building certification program is a national rating system for buildings designed, constructed and operated for improved environmental and human health performance. LEED addresses all building types and emphasizes sustainable site development, water savings, energy efficiency, materials and resources selection, and indoor environmental quality.
###