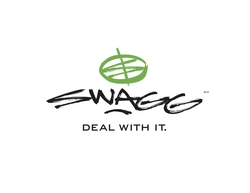 We created SWAGG to put purchasing power back into the hands of the consumer
Atlanta, GA (PRWEB) December 7, 2010
SWAGG(TM) is turning the gift-giving world upside down in time for the holiday season by allowing consumers to toss their plastic to better manage gift, loyalty and membership cards on their mobile devices. Outlier, Inc., a wholly owned subsidiary of Qualcomm Incorporated (NASDAQ: QCOM), today announced the launch of SWAGG, the mobile app that will change the landscape of the multi-billion dollar gift-card industry. Consumers can download the free app at the App Store by clicking here. Consumers with an Android mobile device can download the app at the Android Market or by going to http://www.SWAGG.com.
"We created SWAGG to put purchasing power back into the hands of the consumer," said Rocco Fabiano, president of Outlier, Inc. "SWAGG will revolutionize the way consumers transact while reducing their dependence on carrying plastic gift cards which often are lost, misplaced or expire before consumers have a chance to fully use them. SWAGG will become a part of the lifestyle of the modern shopper by providing efficiency by using their mobile device."
SWAGG allows consumers to give and get gift cards right from their mobile device. Additionally, consumers can access the offers that matter most to them, connecting with over 3,000 retailers, including American Apparel, Inc., The Wet Seal, Inc., Crocs, Inc., Arden B, and 1-800-FLOWERS.COM, Inc., and Buckhead Life. Users can also import their existing plastic gift cards and rewards cards and view balance information, when available. Retailers can benefit by from this mobile channel to acquire new customers, increase in-store business, and retain existing customers.
According to the National Retail Federation, almost 60 percent of Americans will ask for gift cards this holiday season, making them the most requested holiday gift. Despite this, far too many gift cards will go unused because consumers often forget them when going to the store or making a purchase.
Less Plastic ... More Convenience
SWAGG eliminates plastic cards and enables consumers to even swap SWAGG GIFTS among the participating retailers giving SWAGG users greater choices. This digital experience extends to purchases, as consumers can redeem their gift cards and offers from their smartphone in store and even on-line. Get rid of the clutter – have everything, carry nothing.
Transacting With Impact
SWAGG is also taking gifting and giving to a new level to help in the fight against cancer. In keeping with one of its core brand pillars of giving, SWAGG has partnered with Stand Up To Cancer to help in the fight to find a cure. For each consumer who downloads and registers for SWAGG, SWAGG will donate $1 to Stand Up To Cancer, up to a total of $125,000.00 through December 31, 2011. Consumers simply need to download the app from the App Store, Android Market or by going to http://www.SWAGG.com and then register for SWAGG.
About Outlier, Inc.
Outlier, Inc., a wholly-owned subsidiary of Qualcomm Incorporated (QCOM), is an important participant in the mobile commerce ecosystem. With its mobile domain expertise, Outlier, Inc. is creating a fresh and exciting mobile revenue channel that will bridge relationships among consumers and retailers. Outlier, Inc.'s innovative technology creates easily accessible, branded and personalized mobile commerce channels that give consumers access to their accounts, offers and transactions while on the go. For more information about Outlier, Inc., visit http://www.OutlierInc.com.
Qualcomm is a registered trademark of Qualcomm Incorporated. All other trademarks are the property of their respective owners.
Contacts:
Outlier Contact:
Andy McGowan
Phone: 1-678-507-2612
Email: amcgowan(at)qualcomm(dot)com
Qualcomm Contacts:
Emily Kilpatrick, Corporate Communications
Phone: 1-858-845-5959
Email: corpcomm(at)qualcomm(dot)com
Warren Kneeshaw, Investor Relations
Phone: 1-858-658-4813
###