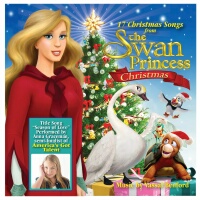 An enchanting story about the Christmas Spirit – Francine Brokaw, LAFamily.com
Dallas, TX (PRWEB) October 26, 2012
On November 6, 2012, just in time for the holiday season, NestEntertainment.com and Blindrun, together with Sony Pictures Home Entertainment, will release two music CD's based upon the soundtrack of the enchanting new animated film, "The Swan Princess Christmas." The Swan Princess series has always been known for its wonderful musical compositions, and "The Swan Princess Christmas" continues the tradition.
On November 6th, the "The Swan Princess Christmas" DVD will also be released exclusively through Walmart. "The Swan Princess Christmas" star – Princess Odette herself – is supported by two young "ladies in waiting," who are no longer waiting for their place in the spotlight. Anna Graceman from "America's Got Talent" and teen recording star Summer Eguchi bring their talents to the screen as Princess Odette's singing voice talent and movie feature song artists.
"The Swan Princess Christmas" Original Soundtrack features an exhilarating, original score composed by Vassal Benford. Vassal also introduces remixes of 17 beloved Christmas songs that are woven into the score in a "Glee" like fashion that easily become immediate favorites to sing along with. The second CD titled "17 Christmas Songs from The Swan Princess Christmas" features the Christmas songs back-to-back, without score.
"The Swan Princess Christmas" DVD was Directed by Richard Rich (The Swan Princess, Alpha & Omega) from the screenplay by Brian Nissen, and was scored by Vassal Benford and produced by Richard Rich, Seldon Young and Jared F. Brown.
This music is available on NestEntertainment.com, iTunes, in Walmart stores and at Walmart.com, and Amazon.com
About Nest Entertainment: From its origin over twenty years ago, NestEntertainment.com has become a leader providing entertaining and educational resources for the expansive family market. In addition to creating enriching stories and highest quality animated and musical productions, we have carved a niche as the nexus distributor between the wholesome Family Entertainment, Home Education and Christian markets through our proven Internet retail and wholesale distribution system.
# # #
Contacts:
Ernie Z Frausto
NestEntertainment.com
800-447-5958
sales(at)nestfamily(dot)com
Laura Young
Blindrun Label
801-540-1885
odette123(at)aol(dot)com