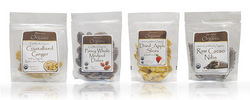 Fargo, ND (Vocus) July 28, 2010
Organic whole foods have many health benefits: they tend to be higher in anti-oxidants, they do not contain the additives and fillers that traditionally processed foods do and they retain more of the vitamins and minerals that are typically stripped when food is refined. Because eating organic whole foods is one of the best ways to defend and preserve optimal health, Swanson Health Products has made a commitment to expand their line of certified organic foods. This commitment continues to be honored with the addition of four new organic whole foods to the Swanson Organic line.
According to the United States Department of Agriculture, organic fruits and vegetables are foods that have never been treated with pesticides, ionizing radiation or bioengineering, and whole foods are those that are unprocessed and unrefined, or processed and refined as little as possible before being consumed. Whole foods typically do not contain added ingredients, such as sugar, salt or fat. Certified organic whole foods have the vitamins and minerals that many other foods are lacking and are packaged without additives or preservatives so essential nutrients are retained.
New Certified Organic Whole Foods in the Swanson Organic line:
Certified Organic Dried Apple Slices: These naturally dried and unsulfured apples are soft, chewy and infused with fresh flavor.
Certified Organic Crystallized Ginger: Succulent, spicy cubes of fresh ginger root are coated in naturally sweet raw cane sugar for a sweet and spicy treat.
Certified Organic Raw Cacao Nibs: Pure, raw nibs from cacao beans have antioxidants and an earthy, nutty flavor with a hint of chocolaty sweetness.
Certified Medjool Dates: Characterized by their thick, meaty flesh and firm texture, Medjool dates are prized for their sweetness and succulence.
Swanson Health Products is an industry leader in bringing vitamins direct to consumers at the lowest prices possible. Swanson Health Products, located in Fargo, ND, offers the highest quality vitamins, supplements and natural health care products and is Good Manufacturing Practices certified. Swanson Health Products goes a step beyond its competitors by offering powerful guarantees. All products are backed by a 100% Satisfaction, Money-Back Guarantee and Double the Difference Lowest Price Guarantee. For more information, please visit swansonvitamins.com.
Contact Information:
Tara Kessler
Phone: 701-356-2807
Website: http://www.swansonvitamins.com
###