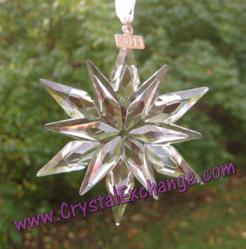 Middletown, OH (PRWEB) October 30, 2011
The Swarovski 2011 Ornament is a stunning crystal design and now available from Crystal Exchange America. The annual edition ornaments are commonly known as Swarovski star ornaments or Swarovski snowflake ornaments.
At present, many of the retired Swarovski ornaments can be found at Crystal Exchange America's web site: http://www.CrystalExchange.com . It is this time of year that ornament sales are strong as collectors are making holiday purchases for friends, family, and employees. Customers are purchasing the new (2011) ornaments as well as the older ones, to fill in gaps in the collection. They may also be replacing ornaments that may have broken during the past holiday season.
Swarovski has maintained a uniform ornament design since the inception of annual edition ornaments in 1991. All the ornaments are made of sparkling clear crystal. Except for the 1991 design, the ornament has a metal tag engraved with the year. A colored ribbon is attached to the ornament bezel for hanging. The Swarovski ornament has from six to twelve pointed crystal extensions to enhance the brilliant sparkle. The crystal ornament is carefully packed in a triangular box with custom form-fitted plastic, and includes special paperwork generally indicating the ornament year.
In 2009, Swarovski introduced the SCS (Swarovski Crystal Society) Ornaments. The SCS ornaments are identical to the clear crystal ornaments in design, but the SCS ornaments are 'golden shadow' (topaz) in color. These ornaments require an exclusive SCS membership for purchase. Since these ornaments are more limited, they do command higher prices on the secondary market.
The most popular Swarovski ornaments are the annual edition stars and snowflakes. However, some collectors also purchase and enjoy other ornaments in the Crystal Moments product line that the crystal brand has produced. The Swarovski Angel Ornaments were available 1996 through 1999. Swarovski Heart ornaments were available 2004 – 2007. Swarovski Kris Bear Ornaments and Christmas figurines were available (2005 – 2011) that utilize a teddy-bear-like design. Additionally, the Swarovski "little stars" and "little snowflakes" have been produced annually since 2003 to harmonize the annual edition star / snowflake ornaments.
Crystal Exchange America's Blog, the Kristall Buzz, KristallBuzz.com, focuses on Swarovski news and articles about Swarovski figurines. Collectors can read a variety of posts on the Kristall Buzz, including retired or rare Swarovski, upcoming Swarovski crystal releases, and view imaginative photos, videos, and articles.
For the avid crystal collector looking for more than the Swarovski figurines, Crystal Exchange America also sells the most popular books on Swarovski Crystal. Two of the collectors' favorite Swarovski price guides are written and published by Swarovski collectors for the past eighteen consecutive years: Warner's Blue Ribbon Books on Swarovski.
Crystal Exchange America can be found by visiting their website which has been available for over 15 years... a testament to their quality and success in the crystal industry. Presently, they have over 5000 products in their online store, most of which is retired Swarovski.
Crystal Exchange America, a retired Swarovski dealer, is not affiliated with, endorsed, or sponsored by Swarovski. Crystal Exchange America is an independent company providing a specialist service to collectors of Swarovski Crystal and Swarovski Silver Crystal.
# # #