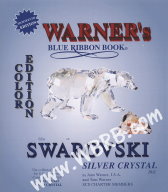 Swarovski collectors look forward to the annual releases of our Swarovski books. Researching and updating values and adding new figurines takes a lot of time and we are committed to publish our quality books each year.
Dayton, Ohio (Vocus/PRWEB) March 02, 2011
Warner's Blue Ribbon Books continues their success in their annual release of publications for 2011. They continue to offer four books with the latest information on new Swarovski crystal product releases together with accurate Swarovski Value (they use the term Swarovski ERV) for Swarovski Crystal products that have been retired 1976 through 2010.
Warner's Blue Ribbon Books on Swarovski has been publishing Swarovski Books on Crystal for eighteen years. No one else in the world has published a book set with a Swarovski picture and a Swarovski Value for over 3000 items, ever! Researching and updating values, adding new Swarovski crystal products to the books takes a lot of time and commitment to do this every year. The authors, Tom and Jane Warner, are Swarovski collectors and they know how important these books are to keeping Swarovski crystal collections organized and insured!
The Swarovski Silver Crystal Catalog contains photos and detailed information about SCS products and Silver Crystal product releases (as well as product variations on those releases) for the past 35 years! That's nearly 1300 Swarovski Crystal items in the Silver Crystal Book.
The Beyond Silver Crystal Swarovski Price Guide contains information on more than 1700 Swarovski Crystal and related products. While some collectibles were commissioned for exclusive use by their own company, such products were made by Swarovski using Swarovski Crystal. Many collectors are intrigued by these types of products as well, so as the items are discovered, they are continually added to this price guide each year.
Warner's Blue Ribbon Book on Swarovski: Beyond Silver Crystal is the corresponding book for all the items that are not in Swarovski's Silver Crystal product line. This Swarovski Book contains: Crystal Moments, Home Accessories, Daniel Swarovski Home Accessories, Daniel Swarovski Masterpiece, Soulmates, Chinese Zodiacs, Myriad, Julia's World, Perfumes, Paperweights, Trimlite, Crystal Signatures, Christmas Memories, Crystal Scents, CrystalograMs, Buddha, Arribas Creations, Crystal Paradise and more! Warner's Blue Ribbon Book on Swarovski: Beyond Silver Crystal is growing in demand due to Swarovski restructuring their product lines. For example, when Swarovski takes an item from the Silver Crystal product line and moves it to the Crystal Moments product line, it is moved from the Silver Crystal Book to the Beyond Silver Crystal Book.
The authors realize that cost is an important factor when making any purchase. For this reason, they continue to offer both their Swarovski books in a format with color Swarovski pictures or black and white Swarovski pictures. The content in the books is the same; it is the pictures (color vs black and white) that are different.
Warner's Blue Ribbon Books on Swarovski can be found by visiting their website http://www.wbrb.com which has been online for over seventeen years. Avid Swarovski collectors and aficionados annually purchase the new releases be current with their Swarovski collection value and management.
For the passionate collector looking for more than Swarovski Books, they can also provide recommendations to reputable brokers like Crystal Exchange America. Crystal Exchange America presently has over 5000 Swarovski crystal figurines in their online store, most of which is retired Swarovski. For Swarovski collectors who prefer information online, the authors recommend subscriptions to their online Swarovski database, found on Warner's Blue Ribbon Books Online. The subscription can be accessed from any computer around the world or on the growing popular iPad using any internet connection.
Warner's Blue Ribbon Books on Swarovski is not affiliated with, endorsed, or sponsored by Swarovski. They research and report information that they believe is a valuable asset to Swarovski collectors.
###