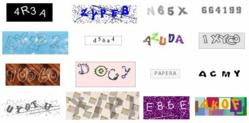 Los Angeles, California (PRWEB) March 23, 2013
Captchas tend to be difficult to read, hard to process strings of text. In recent years, they have become increasingly difficult to enter, in part to help prevent abuse, which is understandable. Unfortunately though -- in many cases, the text is even unreadable for humans. This means that captchas have become a time consuming and frustrating process for most individuals, especially ones that wish to enter sweepstakes. And ironically -- some of the companies that wish to acquire new customers are frustrating the very users they wish to attract. Sweepstakes Ninja has developed a one-click solution, that benefits both users and the companies/advertisers to make both sides happy.
With Sweepstakes Ninja, users may enter captcha based sweepstakes much easier than before. Users click a button, and the software helps them to solve the captcha, while the user views the sponsors advertisements. Advertisers and companies benefit -- because the user sees the company website, the company advertisements, company services -- and in many cases users are introduced to products and services that they would have never heard of before without Sweepstakes Ninja. Sweepstakes Ninja also helps the companies, by helping to ensure that users are entered according to entry guidelines (i.e., once per day, once per week, etc). Users benefit greatly -- because they can focus on participating in the company promotions that they want to participate in -- without having to worry about whether they can read a captcha. Users can now have a enjoyable experience with the companies/sponsors and advertisers promoting the sweepstakes, while the companies/sponsors and advertisers benefit from increased goodwill, and new potential customers.
For more details, please visit http://www.sweepstakesninja.com/
About SweepstakesNinja.com
SweepstakesNinja.com designs fun and interactive sweepstakes. The company matches consumers with companies, in a fun and interactive manner. Entrants have the chance of winning amazing prizes, and have fun participating in the sweepstakes. Companies benefit from exposure to their brands, word of mouth advertising, customer loyalty, and long term increases in profit. For more details, visit http://www.sweepstakesninja.com/.