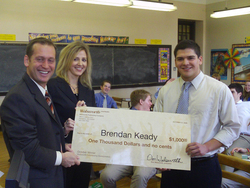 The Scholarship Sweepstakes gives our yearbook staffs a perfect opportunity to promote the wonderful thing about yearbooks - the value they continue to hold over time
Kansas City, Mo. (PRWEB) November 25, 2009
Walsworth Publishing Company announced the first winner in its Student Scholarship Sweepstakes. Brendan Keady, a senior at Fenwick High School in Oak Park, Ill., won the October drawing and became the first of three $1,000 winners.
Representatives from Walsworth presented Keady with a $1,000 oversized check last week during a ceremony in his English class at Fenwick.
"When I got the letter in the mail saying, 'Congratulations, you won,' I was pretty stunned," said Keady. "I've been applying for so many scholarships to help me with college, and I just never expected to win."
Keady, who is still undecided on where he would like to attend college, said he plans on using the $1,000 winnings from Walsworth as a start down the long road toward medical school.
"Ever since I was a little kid, I've always wanted to become a doctor," said Keady. "That's always been my ambition. That's what I plan on studying."
Brendan's father, Tom Keady, said Brendan suffered from severe allergy and sinus problems as a small child, even needing operations on his ears before he was five years old. All the treatments at a young age paid off and Brendan thrived as a healthy, successful athlete, playing football at Fenwick.
"(Brendan) got to know doctors at a very young age, and I think that's why he sort of locked on to that," said Tom Keady. "He wants to be a pediatrician, or a sports doctor. He wants to help people, the way the doctors helped him."
Students and parents can continue to register to win in the final drawing until Nov. 30 by visiting yearbookforever.com/win. One drawing remains in early December. The winner of the Sweepstakes drawing from November will be announced within the next few weeks.
The Scholarship Sweepstakes is part of Walsworth's yearlong effort to help schools show their audience just how special the yearbook is. Schools taking part in Walsworth's Online Sales program were given access to marketing materials promoting the Sweepstakes, including posters, fliers, web ads and other materials, all with the theme of capturing a snapshot of high school life and asking students if they will remember it "10 years from today."
"The Scholarship Sweepstakes gives our yearbook staffs a perfect opportunity to promote the wonderful thing about yearbooks - the value they continue to hold over time," said Alex Blackwell, Walsworth's director of yearbook marketing. "Yearbooks are fun now, but they become irreplaceable years later."
###