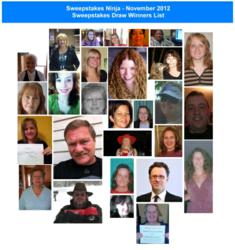 Thanks! I'm SOOOO excited to be selected as a winner! Sweepstakes Ninja is AMAZING!
Los Angeles, California (PRWEB) March 06, 2013
Sweepstakes Ninja, a company specializing in online sweepstakes, announces prize winners for November 2012. Sweepstakes Ninja is a service that helps connect consumers with companies. Consumers get the chance to win amazing prizes, and companies benefit from the increased publicity and exposure. This makes it a 'win-win' situation for both.
Sweepstakes Ninja would like to first publicly thank the following companies for their participation in the November 2012 sweepstakes draw sweepstakes.
Sweepstakes Ninja would like to thank the following companies for their participation:

XShot.com - Specializing in unique and innovative camera accessories.
us.Travalo.com - Carry-on perfume spray bottles for women
ShaveTech.com - USB Shaver for Men
CustomKnitsforBaby.com - Handmade, custom baby clothing
JVNaturals.com - All natural deodorant for children
Katazoom.com - Unique wall decals for home and office
RealTechniques.com - Makeup for women
BringItUp.com - Breast Enhancers for Women
SafePaw.com - Pet-Friendly Ice Melting Products
HipHopBling.com - Hip Hop Jewelry for aspiring artists
TheSlanket.com - The blanket without sleeves!
AdultSafetyBand.com - Children friendly wrist bands
Zacalife.com - Topical Recovery Patch
MilitaryApparelCompany.com - Military Apparel Clothing Line
VelvetChokers.com - Fashionable Chokers/Jewelry for Women
Curls.biz - Lavish Curls for Hair
Restaurant.com - Best Deals and Discounts on local restaurants
PowerSkin.com - iPhone/Galaxy Samsung Battery cases
ZinaKao.com - specialized jewelery
BeeZid.com - Penny Auction site for the best deals
BlackJackStrategyPro.com - Learn how to improve your blackjack game
EasyCalendarMaker.com - Making Calendars Easy
SpareOne.com - Emergency Cellphone
HotHotSoftware.com - unique business applications for business users
RealKidsShades.com - Sunglasses specially designed for children
Congratulations to the following winners (listed in no particular order):
Kathryn C., Donna S., Tammie W., Kellie K., Jennifer H, Julie T., Michelle K,
Charlotte Y., Angela C., Brenda P,. Paula R., Sondra N., Richard P., Cindi S.,
Natalie K., Cindi S., Karen K., Shannon C., Margaret B., Kim R., Johni O.,
Karen W., Patrick M., Michael S., Teresa D., Denise S., Mark W., Donna S.,
Shirley S., Debra O., Terry M.