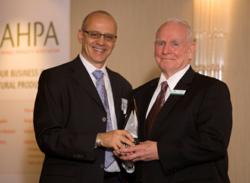 It's an honor to be recognized by such an important institution.
Gilbert, Arizona (Vocus/PRWEB) March 11, 2011
The American Herbal Products Association (AHPA) awarded James May, founder of Wisdom Natural Brands,® maker of SweetLeaf Stevia® Sweetener, the 2011 AHPA Visionary Award. AHPA, which promotes the responsible commerce of herbal products, presented May with the award in recognition of unwavering, persistent dedication in the advancement of all-natural stevia. Inspired by May's perseverance during his lifetime of work bringing stevia to the United States and advancing it as a sweetener, AHPA created this award especially to honor him.
This week, AHPA announced four awards in separate categories, each recognizing individuals and companies making substantive, positive contributions to the herbal products industry. AHPA presented the awards during the association's Annual Member Meeting on Thursday, March 10 at the Anaheim Hilton Hotel. In addition to bestowing recipients with the Herbal Hero Award, Herbal Industry Award, and Herbal Insight Award, the association presented May with their very first Visionary Award. Inspired by May, the Visionary Award recognizes May's tireless championing of stevia as an agricultural crop for family farmers in developing countries and his promotion of stevia as a natural sweetener that could have a role in fighting childhood obesity and in preventing diabetes.
"It's an honor to be recognized by such an important institution," said May. "I always believed stevia would bring significant changes to the way we eat, encouraging a healthier relationship with sweets. When you know that there is a natural product that can change lives for the better, how can you not do everything you can to make the world aware?"
Known as "The Father of Stevia," May first traveled to Paraguay to import stevia in 1982 and worked for more than a quarter of a century to bring the natural sweetener to the American market. From the beginning, May could foresee being part of a great food revolution when he initially brought stevia to the U.S. and began selling products out of his garage 29 years ago. By adhering to high standards in making products that are 100% natural, May became a pioneer in a worldwide movement toward embracing healthy, low-calorie options.
His perseverance and dedication resulted in SweetLeaf Stevia® Sweetener, a 100% natural sweetener with zero calories, zero-carbohydrates, zero-glycemic index, and zero chemicals. Only cool, purified water and high-grade stevia leaves are used in its "green" processing. SweetLeaf® is the 2010-2011 Global Stevia Products Award winner for taste, technology and sustainability.
In addition to his AHPA recognition, May was recently inducted into the Hall of Fame of his alma mater, Phoenix College, and in June 2010 was presented with the Lifetime Achievement Award by Stevia World International.
To learn more about James May and SweetLeaf Stevia® Sweetener, please visit http://www.sweetleaf.com/.
Interviews with James May can be scheduled through the above contacts.
About SweetLeaf Stevia® Sweetener
It all started with one man who had a dream -- James May, Founder of Wisdom Natural Brands®.
Stevia is a naturally sweet herb native to Paraguay that has been consumed for centuries. After tasting stevia leaves given to him by a Peace Corps worker, May made it his mission to bring the extract from the deliciously sweet plant to the United States. May is world known as "The Father of Stevia." The process involves taking the highest-quality leaves of the stevia plant and extracting their naturally sweet taste with only cool, purified water -- no chemicals, solvents or additives that adulterate and cover up the great taste created by nature.
May first traveled to Paraguay to import stevia in 1982. His most satisfying victory came in 2008, when GRAS Associates and Life Science Research Office, two completely independent panels of scientists, awarded SweetLeaf Stevia® GRAS (Generally Recognized as Safe) status, pursuant to FDA regulations. This allowed SweetLeaf® products made from its new, revolutionary extraction technology to be labeled as sweeteners. SweetLeaf® could finally use the word "sweet" to describe its product, known then as SweetLeaf Sweetener®. The FDA granted a no-questions letter to SweetLeaf's® GRAS status in 2009, validating all the hard work done by May over more than a quarter of a century.
Wisdom Natural Brands®, a leading U.S. manufacturer of stevia products, offers SweetLeaf Stevia® Sweetener in convenient double-serving packets. SweetLeaf ® is sold in boxes containing either 35 or 70 packets. Each packet replaces two teaspoons of sugar. SweetLeaf® is also sold in the SweetLeaf Stevia Plus® Shaker Bottle for easy home use and SweetLeaf SteviaTabs™ Dissolvable Tablets for easy on-the-go use.
Today, May is a leading expert on stevia and travels across the world promoting the benefits of the stevia plant.
For more information, visit http://www.sweetleaf.com/.
###