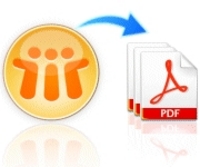 Los Angeles, CA (PRWEB) June 16, 2010
SWING Software announces today the release of SWING PDF Converter 2.0 - a software tool for Lotus Notes email and document archiving, sharing and web printing.
SWING PDF Converter 2 provides Lotus Notes professionals with the ability to:

Export emails, documents and attachments to PDF
Archive entire mail folders or document collections
Produce print-quality documents from Domino web applications
Create PDFs using either existing forms or custom forms
Create compact, searchable email archives with a built-in view, all in a single PDF file!
What makes SWING PDF Converter unique:
First, it doesn't require a client-side installation of a printer driver nor DLL files. Managers or Administrators can centrally deploy PDF toolbar icons to end-users and manage the tool through configuration documents.
For Notes developers, it provides the LotusScript API that can be employed in any Notes/Domino application. Developers can set up the conversion to run either on the client or on server for scheduled tasks or web-based applications.
The new version brings overall speed improvements and better conversion fidelity, new attachment handling, and a number of Notes-specific functions such as a smart "fit-to-page" function that automatically adjusts the size of images and tables.
Want to try it or find out more?
About SWING Software
SWING Software develops and markets award-winning software for collaborative document management. Its market leading products for IBM Lotus Notes/Domino and Microsoft Office systems are helping companies across 60 countries worldwide make their document production, publishing and distribution processes more efficient.
###